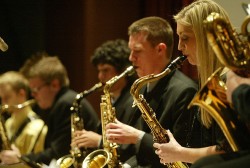 MEDIA CONTACT: Lisa Lacher, 515-271-3119,
lisa.lacher@drake.edu
Drake University Jazz Ensembles I and II will give a concert featuring big band, swing and Latin musical styles on Friday, Sept. 26.
The event, which is free and open to the public, will start at 8 p.m. in the Performing Arts Hall, Harmon Fine Arts Center, 25th Street and Carpenter Avenue. The concert will be followed by a reception sponsored by Friends of Drake Arts.
Jazz I, directed by Andrew Classen, director of jazz studies, will perform classic and contemporary big band music, including works by Count Basie and Woody Herman.
Jazz II, directed by James Romain, assistant professor of saxophone and jazz studies, will perform a variety of swing and Latin styles.