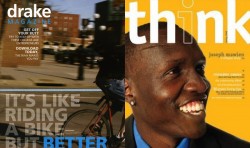 MEDIA CONTACT: Tory Olson, 515-271-1834,
tory.olson@drake.edu
Two magazines produced by Drake University journalism students are finalists for one of the top honors in college media — the Associated Collegiate Press' Pacemaker award.
Drake Magazine and THiNK magazine are among 10 finalists in the feature-magazine category for the award, which is given for general excellence by the ACP. The finalists were selected by a panel of judges from The New York Times Magazine.
"The Pacemaker is one of the most prestigious awards for college media," said Jill Van Wyke, assistant professor and faculty instructor for THiNK. "To have two of Drake's magazines among the 10 finalists speaks to the impressive skills and drive of our students and to the strength of our journalism curriculum."
"Drake is the only school in the nation with two finalists," said Kathleen Richardson, director of the School of Journalism and Mass Communication. "It also is the only college or university in Iowa that has a finalist in the feature-magazine category."
Both magazines are produced entirely by students in the School of Journalism and Mass Communication. THiNK, which received a Pacemaker award for its inaugural issue last year,receives financial support from Meredith Corp. of Des Moines.
Drake Magazine is a biannual magazine. Its 2007-08 editor was Justine Blanchard of Grimes, Iowa, who is a senior magazine major this fall. Students were advised by former assistant professor Angela Renkoski.
Blanchard also won first place for a non-fiction article in the Society of Professional Journalists Mark of Excellence competition in May.
THiNK, a news magazine, is a joint senior capstone project for magazine and news-Internet majors, produced in the spring semester. The spring 2008 editor was Sarah Hall of Normal, Ill., a senior magazine major who plans to graduate in December.
In addition, THiNK won first place for general excellence in the Association for Education in Journalism and Mass Communication student magazine contest this summer.



Winners of the Pacemaker award will be announced at the Nov. 1 ACP convention in Kansas City, Mo.The list of winners also will be available online.



More information about the ACP and the award is available online.