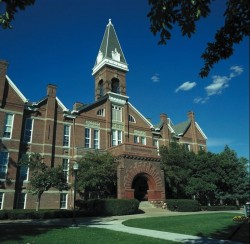 MEDIA CONTACT: Lisa Lacher, 515-271-3119,
lisa.lacher@drake.edu
Drake University has enrolled more than 900 first-year students in each of the last two years, far exceeding its enrollment goals for both years.
These large entering classes have helped increase undergraduate enrollment to 3,516 and total enrollment to 5,668 this fall — the highest since the early 1990s.
This fall's entering class consists of 902 first-year students, down slightly from last year's entering class of 924 — the largest class since 1988. The 2007 and 2008 entering classes are far bigger than the entering class of 2006, which had 781 students.
"We're pleased with our enrollment gains and that there is such a high level of interest in a Drake education," said Drake President David Maxwell. "The quality of our programs and faculty remain attractive in a competitive marketplace."
As planned, this year's first-year class is slightly smaller than last year's and far exceeds Drake's enrollment target of 830 first-year students. Drake officials set the target well below 900 to maintain the optimum size of the University along with the quality of the Drake experience and sense of community.
"The increased demand that Drake has seen over the last two years has allowed the University to become more selective in building its community," said Tom Delahunt, vice president of admission and financial aid. "Our goal each year is to enroll a demographically diverse class with high academic quality, ensuring that the Drake University community will be sought year after year."
At the graduate level, enrollment in Drake Law School increased this fall to 452 from 428 the previous year. The number of students enrolled in the Doctor of Pharmacy program declined slightly to 463 from 479 as part of a planned enrollment reduction designed to maintain academic quality.