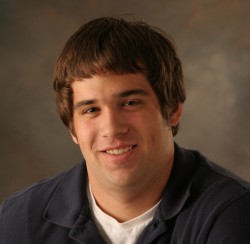 Tyler Buller
MEDIA CONTACT: Lisa Lacher, 515-271-3119, lisa.lacher@drake.edu
Drake University senior Tyler Buller, 20, collected 636 votes to win a one-year term on the Johnston School Board in the Sept. 9 election.
"I'm really excited," said Buller, a resident of Urbandale who defeated Julie Walter of Johnston by 16 votes. "This is an opportunity not many 20-year-olds get."
Buller is one of only two school board members younger than 25 in the state of Iowa, according to statistics provided by the Iowa Association of School Boards.
His two main platforms are strengthening the board's communication with students, parents, teachers and community members, and making each student in the district count.
Buller said he is looking forward to serving the district and to working with some of the people who signed his high school diploma.
"Things are going well," he added, "and I'm going to help continue to improve the district."
Buller, a 2006 graduate of Johnston High School, is majoring in politics at Drake. He chose to attend Drake in part so he could stay active in the Johnston community.