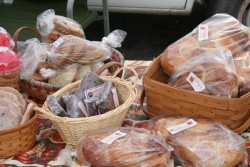 Shoppers at the Drake Neighborhood Farmers' Market will have the opportunity to get advice from mortgage and health professionals on a variety of topics.
The August 27 market will feature
Mortgage Help – Representatives from the Neighborhood Finance Corp. will visit with you about their programs which help with repairs, down payments and closing costs.
Veggie Toss Game – Kids will be able to throw veggies at a garden target to win a prize.
For Your Health – Visiting Nurse Services present child car safety seat inspections and instructions.
The market is open from 4 to 7 p.m. every Wednesday, rain or shine, through Sept. 24. It is held in the parking lot of First Christian Church, 25th Street and University Avenue. Free parking is available across the street from the market.
More than 20 vendors will offer Iowa-grown produce, baked goods, snacks, meals, sandwiches and crafts. Four vendors have wireless equipment that accepts bank debit cards, Visa, Discover and MasterCard credit cards and Electronic Benefit Transfer cards. IFMNP/WIC checks and Senior Farmers' Market Nutrition checks are welcome at the market.
Entertainment, educational information and special guests are provided weekly. The market also has a health tent, where free blood pressure checks and blood sugar tests are available each week.
The market is a non-profit community event sponsored by First Christian Church, the Drake Neighborhood Association and Drake University. For more information, call Ginny Gieseke at 515-277-6951.