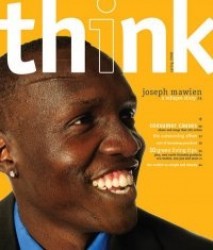 Drake magazines take top places in national college magazine contest
Three Drake University student-produced publications THiNK, 515 and Drake magazine recently reeled in honors in the Association for Education in Journalism and Mass Communication's 2008 Student Magazine Contest.
"The Drake students continue to amaze me with their creativity, energy and talent," said Kathleen Richardson, director of the School of Journalism and Mass Communication. "These awards are even more impressive if you consider that Drake competed among hundreds of entries nationwide and beat out programs at much larger institutions, such as the University of Missouri and University of Kansas."
THiNK, a news magazine produced by senior magazine and news-Internet majors, took the top award for General Excellence in the Single Issue of an Ongoing Print Magazine category.
"Combining sleek and accessible design, the magazine contained the range of news and features that its targeted audience might find appealing: short and long, serious and light, with different entry points on the longer pieces," said David Kaplan, senior editor at Newsweek, who judged the magazine. "I also was impressed with much of the photography and graphics."
In addition, THiNK scored high marks for the magazine's editorial content for a Single Issue of an Ongoing Print Magazine, finishing in second place.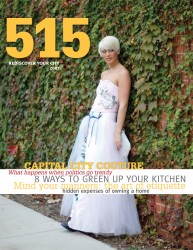 515, a lifestyles publication produced by magazine seniors, ranked
third as a Single Issue of an Ongoing Print Magazine for its editorial
content.
"This was one of the most fun, modern and current layouts I saw out of
the bunch, mixing unique stories that had a worldly importance but
still appealed to college students in a very effective way," said judge
Ashley Deahl, acting editor-in-chief and managing editor of Phoenix
Magazine.
All magazines — THiNK, 515 and Drake magazine, a bi-annual magazine
produced by Drake students — tied for second place for design in the
Single Issue of an Ongoing Print Magazine category.
The three magazines received glowing remarks from judge Bob Gray, design director of Science News.
Gray complimented the students for their "solid" work and praised each publication for employing "best design practices."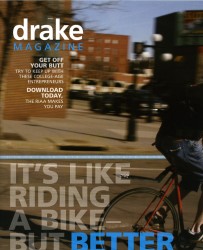 "This is my fourth time to judge this contest and each time Drake
magazine has been a top contender. This year 515 and THiNK join the
ranks," he added.
In another category, Drake's Chelsea Hottovy, JO'08, AS'08, a magazine
major from Gretna, Neb., who graduated in May, took second place for
her 515 consumer magazine article titled "How to Act Swell in Every
Situation."
The article received rave reviews from its judge, John Rockhold,
managing editor of Mother Earth News. Rockhold praised the article for
its useful information applicable to the magazine's audience and its
balance in format with a mix of direct quotes and paraphrased advice.
"I can see this article being saved and passed around among friends," he said.
Judges include well-known publishers, writers, editors and designers
from publications such as Women's Health, People and National
Geographic Traveler.
Read more about the AEJ and the Student Magazine Contest online.