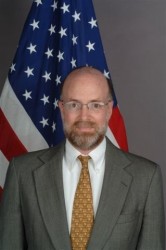 Ambassador Ronald McMullen
Ambassador Ronald McMullen will kick off Drake University's "United States and the World" lecture series with his speech "Where Do We Draw the Line?" on Thursday, Sept. 4
The event, which is free and open to the public, will start at 12:30 p.m. in Bulldog Theater in Olmsted Center, 29th Street and University Avenue.
McMullen has more than 25 years of experience in the U.S. Foreign Service. He has lived, worked or traveled in 85 of the world's 194 countries.
Since November 2007, McMullen has served as the U.S. ambassador to the State of Eritrea, located on the African continent.
He also has served as deputy chief of mission in Rangoon, Burma where he worked close by with Nobel Peace laureate Aung San Suu Kyi. He was instrumental in putting the Fiji Islands back on the democratic path after an armed takeover of parliament.
The "United States and the World" lecture series is sponsored by Drake's Center for Global Citizenship in cooperation with the
National Security Network
.
For more information about the event, call 515-271-3843.