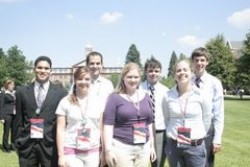 Some Drake students at the convention: Back row (L to R): Victor Cedeno; Andrew Lemens; Vitaliy Perekhov; Bryan Riha; Front row (L to R): Jamie Burch; Marilyn Boskey; Colleen Nell.
Drake University journalism and politics students recently launched a blog about their internships at the Democratic National Convention in Denver Aug. 25-28.
View the blog online.
Journalism students will team with University of Missouri journalism students to work in a collaborative course offered by both schools, "Writing and Reporting from the Democratic National Convention."
The course is taught by Drake Associate Professor of Journalism Lee Jolliffe, who will accompany Drake students, and Sandy Davidson, associate professor of journalism at Missouri, and Lillie Fears, associate professor of journalism from Arkansas State.
The journalists are joined by Drake Associate Professor of Politics Rachel Paine Caufield and a group of politics students from Drake, Hastings College and the University of South Dakota.
The group has already drawn the attention of public television. The students and faculty will be featured on Denver's local public TV station in "Snapshots from the DNC," on Channel 12.
View the story online.
Internships offer hands-on experience
The students' internships are part of The Washington Center's Campaign 2008 program. This is the first time Drake has participated in the program. The Drake group will join approximately 350 students and 25 professors through
The Washington Center
for Internships and Programs.
Each day during the first week of the internship, students attended academic seminars, listened to distinguished speakers and participated in small group discussions led by assigned professors.
In the second week during the convention, they are working as interns in the field with a media outlet or the Democratic National Committee, the Host Committee, a state party organization or an interest group.
The Washington Center offers two-week study programs with internships at the Democratic and Republican National Conventions, the Inaugurations and in Washington, D.C.
In addition, two Drake students will intern for ABC News at the Republican National Convention from Sept. 1-4 in the Twin Cities.
Leaders of the Denver 2008 program are the best-known presidential scholars in the United States — Michael Genovese and Thomas Cronin — authors of the textbook Caufield uses in her Presidential Politics course.
"Students will see the nominating process in person and learn the rules of the process and how the convention works from both historical and modern perspectives," Caufield said.
"The Washington Center has done an amazing job of organizing," Joliffe said. "Some of my students have already been slotted for two and even three internships."