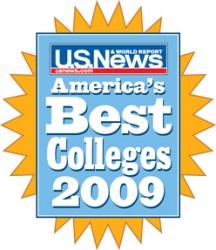 MEDIA CONTACT: Lisa Lacher, 515-271-3119,
lisa.lacher@drake.edu
For the ninth consecutive year, Drake University is listed in the "Great Schools, Great Prices" category for Midwest master's universities in the annual college rankings published by U.S. News & World Report magazine.
The 2009 "Great Schools, Great Prices" rankings are based on a formula that relates certain measures of a school's academic quality to the net cost of attendance for a student who receives the average level of need-based financial aid.
The new rankings show 57 percent of Drake students receiving grants based on financial need. Drake students also receive tens of millions of dollars in scholarships based on academic merit, which are not calculated in this category.
Drake ranked fifth in the overall rankings of 141 Midwest universities that provide a full range of undergraduate and master's programs, and maintained its No. 2 position in reputation for academic quality (peer assessment).
The University improved in several areas of the rankings, including incoming students' SAT/ACT test scores and the percentage of first-year students in the top 25 percent of their high school class.
Highlights of the college rankings will be published in the Sept. 1 issue of U.S. News & World Report, available on newsstands Monday, Aug. 25. The 2009 "America's Best Colleges" guidebook will be available on Tuesday, Aug. 26.
"We're pleased that Drake continues to be recognized as one of the best institutions in the Midwest in both academic quality and value," Drake President David Maxwell said. "We are grateful for the recognition by U.S. News & World Report and other national media. Ultimately, however, the most important feedback comes from our students, their parents and our alumni, and from more objective assessment of student learning."
The University has a strong commitment to transparency in providing useful and clear information to its various constituencies. The Drake Web site details statistics on enrollment, graduation and retention rates, tuition and fees, common fields of study, faculty profiles and diversity profiles.
Valuable information also comes from the National Survey of Student Engagement, which provides extensive data on the nature of the students' educational experience, and benchmarks institutional performance against other institutions nationally. The most recent results are based on surveys of Drake first-year and senior students in the spring 2008 semester.
In comparison to other master's universities nationwide, Drake scored extremely high on critical measures such as:

Level of academic challenge
Student-faculty interaction
Enriching educational experiences
Supportive campus environment
"We are particularly pleased with the NSSE data, because they provide objective and useful information in assessing educational quality," President Maxwell said. "They enable us to ensure constant and focused improvement in the exceptional learning environment that we promise our students."