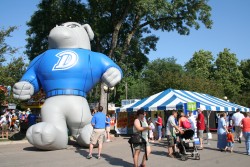 Visitors at the Drake Day tent were welcomed by a 25-foot-tall Spike the Bulldog.
CONTACT: Lisa Lacher, 515-271-3119, lisa.lacher@drake.edu
The eighth annual Drake Day at the Iowa State Fair featured many
ways for fairgoers to "Picture Yourself at Drake." Thousands of Drake
supporters snapped photos, met athletes and received stick-on tattoos
in the University's tent on Aug. 9.
Nearly 2,500 Drake-themed disposable cameras were distributed, and
fair attendees took photos in life-size cutouts representing different
aspects of Drake life. These scenes included a basketball player, a
group at graduation and a family gathered around a bulldog. View photos of Drake Day online.
President David Maxwell greeted visitors at the Drake tent on Rock
Island Avenue. He also served as an honorary chef at the Iowa Pork
tent.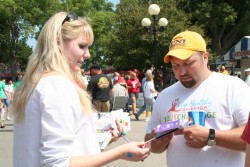 Drake pharmacy student Stephanie Swain gives a fairgoer a free heartburn screening and sample of Prilosec-on-a-stick.
Three athletics teams — volleyball, men's basketball and women's
soccer — visited the tent throughout the day to autograph
limited-edition posters. Drake Relays Director Brian Brown also
promoted the 100th birthday of the Relays (April 22-25, 2009),
premiered the Relays Countdown Clock and displayed other event
memorabilia and merchandise.

In addition, Drake pharmacy students gave free heartburn screenings to visitors. In true fair fashion, the screenings included free samples of Prilosec-on-a-stick for those suffering from heartburn after indulging in the fair's vast array of deep-fried foods.
Drake also has a booth (805) in the Varied Industries Building throughout the fair, which continues through Sunday, Aug. 17. The Varied Industries Building is open from 9 a.m. to 9 p.m. daily.