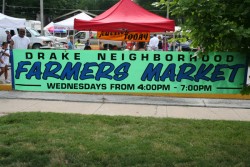 This week, things will heat up at the Drake Neighborhood Farmers' Market as Chef Joe Godfroy cooks up tasty recipes and shares samples with market goers.

The August 6 market will feature:
•
Cooking Demos
— Chef Joe Godfroy will demonstrate easy and delicious dishes with produce available at the market. Free samples and recipes also will be available. Funds for this project were provided through the Specialty Crops Grant Program from the Iowa Department of Agriculture and Land Stewardship.
•
For Your Health
— Market goers can talk to representatives from Primary Health Care about its services, which are dedicated to serve the medically insure, uninsured and underinsured.
•
Farmers' Market Week
— Celebrate National Farmers' Market Week by helping the Emergency Food Pantry. Donations of produce, baked goods, canned and boxed meals and cash will be accepted. Market goers also will receive a gift from the market.
The market is open from 4 to 7 p.m. every Wednesday, rain or shine, through Sept. 24. It is held in the parking lot of First Christian Church, 25th Street and University Avenue. Free parking is available across the street from the market.
More than 20 vendors will offer Iowa-grown produce, baked goods, snacks, meals, sandwiches and crafts. Four vendors have wireless equipment that accepts bank debit cards, Visa, Discover and MasterCard credit cards and Electronic Benefit Transfer cards. IFMNP/WIC checks and Senior Farmers' Market Nutrition checks are welcome at the market.
Entertainment, educational information and special guests are provided weekly. The market also has a health tent, where free blood pressure checks and blood sugar tests are available each week.
The market is a non-profit community event sponsored by First Christian Church, the Drake Neighborhood Association and Drake University. For more information, call Ginny Gieseke at 515-277-6951.
Activities scheduled for upcoming market days include:
•
Live Music
— Jerry & The Moonlighters will play Enjoy oldies and goodies from 5 to 6:30 p.m.
•
Kids Veggie Toss Game
— Kids will be able to throw veggies at a garden target to win a prize.
•
For Your Health
— Planned Parenthood representatives will provide information on a program providing free birth control and exams for a year as well as information about a variety of reproductive health care issues and family planning services.
•
For Your Health
— Polk County Health Department representatives will talk about the variety of confidential services available at low or no cost. PCH is dedicated to helping families face the challenges of being and staying healthy. Services include immunizations, diabetes help, flu shots and respite from extreme summer heat.
•
Mortgage Help
— Representatives from the Neighborhood Finance Corp. will visit with market goers about programs that help homeowners with home repairs, down payments and closing costs.
•
Veggie Toss Game
— Kids will be able to throw veggies at a garden target to win a prize.
•
For Your Health
— Visiting Nurse Services will present child car safety seat inspections and instructions.