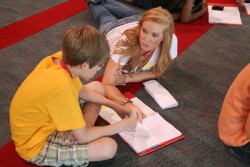 This month, Drake will host the second of two 10-day residential academic summer programs operated by SuperCamp, a leader in learning and life skills summer camps. Eighty high school students will be on campus to participate in the Senior Forum, which takes place July 25-Aug. 3.
The Senior Forum will focus on three main academic rotations: reading, writing and SAT/ACT preparation. At SuperCamp, there's no passive learning. Instead, campers engage in experiential exercises, mental and physical challenges and team problem solving.
Thirty-six middle school students attended the Junior Forum from July 13-22. They participated in academic rotations and interactive group activities, which included non-verbal communication, smart stations and state management.
View photos of the Junior Forum in an online gallery.
SuperCamp is a dynamic summer program that has graduated more than 48,000 students worldwide in 26 years. Based on accelerated learning methods, SuperCamp prepares students for success with valuable learning and life skills that they can apply at school and in their personal lives.
Learn more about SuperCamp online.