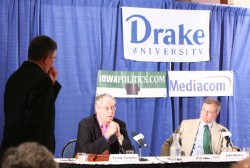 Chris Dorsey (standing) directs a question to Mayor Frank Cownie (seated left) and Iowa Utility Board Chairman John Norris (seated right) during last week's energy panel.
By Matt Clark, IowaPolitics.com
Iowa officials gathered Friday
afternoon on Drake University's campus agreed unanimously that it is possible
to reduce dependency on foreign oil without devastating other industries.
"If we think that our
aspirational goal is to save the planet and also figure out how to feed the
human race, Iowa can play such an important part in those issues," Des
Moines Mayor Frank Cownie said.
The event featured Cownie, Iowa
Agriculture Secretary Bill Northey, Iowa Utility Board Chairman John Norris and
Iowa's Office of Energy Independence Executive Director Roya Stanley discussing
energy production, prices and future alternatives in the state.
IowaPolitics.com Des Moines Bureau
Chief Chris Dorsey was the moderator of the forum, which was the most recent in
a series of "Cookies and Conversations" sponsored by
IowaPolitics.com, Drake University and Mediacom Cable.
Northey commented on the fact that
a bad season of weather and recent flood devastation has left some concerned
about crop availability.
"While we have plenty of crop
to get to this year's harvest," Northey said. "The question is do we
have enough crop to get from one harvest to the following harvest?"
While he said the short-term
availability of food was not a major worry, the ripple effect of the flooding
has reignited opposition to ethanol production based on the concern that crops
are too valuable of a commodity to turn into a source of energy.
"What it's obviously done is
ramped up the politics around the food-versus-fuel discussion," he said.
"This is a battle about a lot more than corn or ethanol or bio-diesel;
this is about renewable energy.
"If policies change so
dramatically that we completely turn away and do real, significant harm to the
ethanol industry, we send a gray signal to all future alternative energy
products that are out there. With one flip of the political switch it could all
be out of business."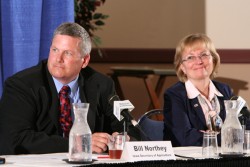 Bill Northey and Roya Stanley
Stanley likewise advocated continued ethanol production coupled with other sources of alternative energy while explaining how fears of ethanol production driving up grocery market bills are unfounded.
"We have the opportunity to move into a bio-based economy from a petroleum-based economy through our ingenuity and applied science," Stanley said. "I recognize that there's been a lot of discussion about the cost of food and how that has increased over the past several months. However, there are a number of studies that indicate that only a very small percentage of the increase in the price of food is associated with the increase in the price of corn, which means it's not even necessarily related to ethanol."
Norris reminded those in attendance that while the allure of alternative energies such as ethanol is strong, it would be impossible as it stands now to completely abandon the traditional power grid for greener sources of fuel.
"The bio-fuels industry has exploded in Iowa but along with that comes increased consumption of natural gas and electric power. So my big concern is how to reduce energy consumption in making energy," he said.
As natural gas prices continue to climb — doubling over the past five years — Norris urged conservation and energy-saving production as ways to drive down the cost of doing business.
"We need to focus on how we can produce our bio-fuels with the least amount of consumption," he said. "Reducing demand is going to impact gas prices and is the one thing we have available to us to operate more efficiently."
Stanley said that it would be impossible to overstate the need to develop alternatives sources of energy, as they will ultimately allow Iowans and all Americans to "chart their own course," without dependence on hostile countries for fuel.
"From an energy perspective I think it's absolutely essential to really think about and move toward a new level of independence," she said. "Doing so will allow us to better support ourselves, our children, our economy and our environment."