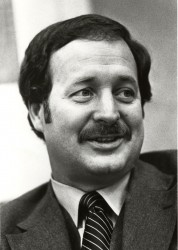 Kenneth A. Macke
Drake University alumnus and former trustee Kenneth A. Macke, who was chairman and CEO of Dayton Hudson Corp. from 1984 to 1994, has died from complications associated with Parkinson's disease.
Macke, who died June 28 near his home in Napa, Calif., was 69. He had served on Drake's governing board from 1979-80 and from 1990-91.
A native of Carroll, Iowa, Macke began his retail career as a shoe salesman at age 15. He attended Drake on a football scholarship, graduating with a bachelor's degree in business in 1961.
He then joined Dayton's as a merchandise trainee. This position led to a 33-year career in retailing as Macke rose through the ranks to head merchant positions at Dayton's and Target.


'Born merchant' loved walking the aisles 'undercover'
"My dad was a born merchant," said his son, Jeffrey Macke of Bedford, N.Y., in an interview with the New York Times. "He was passionate about showing respect for every customer who walked in the door by giving them superior service and a clean place to shop. By running the nicest stores in the discount world, Target clearly defined its niche and became one of the best companies in America. My dad absolutely loved working on Target and walking the aisles 'undercover' at every opportunity."
Macke was named president and CEO of Target in 1976, and in 1977 became chairman and CEO of Target. During that time, Target grew from 49 stores in 9 states to 137 stores in 16 states and became the corporation's top profit-maker. In 1981, he was elected president of Dayton Hudson Corp. and in 1983 became the corporation's CEO.


Macke led Dayton Hudson to national prominence
During the decade he was chairman and CEO of Dayton Hudson, the company grew from 350 stores to 909 stores in 33 states and revenues more than doubled to over $19 billion.
He was proudest of the company's strategy to concentrate on its three largest companies; Target's growth and move into California, the Northwest and the Southeast; the acquisition of Marshall Field's; the successful defeat of an attempted takeover of Dayton Hudson; and the people he worked with and developed.
Under his leadership, the company was named "America's Best Managed Company." His commitment to provide opportunities for women and minorities brought national recognition to Dayton Hudson: "100 Best Companies to Work for in America," "100 Companies Providing the Most Opportunities for Hispanics," "50 Best Companies for Hispanic Women." He was named by many publications and groups as one of America's best managers.
In addition to serving as a Drake trustee, Macke was a director of the Walker Art Center and the Urban Coalition of Minneapolis. In 1989, he chaired the United Way annual campaign, breaking all records for annual fund drives. In 1993, he chaired the board of the Greater Minneapolis United Way.
A mentor for retail entrepreneurs



After his retirement in 1994, Macke and his wife, Kathy, moved to the Napa Valley and continued to mentor retail entrepreneurs.
In addition to his wife, survivors include his children, Michael of Napa; Jeffrey of Bedford, New York; and Melissa Raz of San Francisco; five grandchildren; a sister, Judy DeGraeve of Green Bay; and a brother, Jim, of Carroll, Iowa.
Memorial contributions may be directed to the UCSF Memory and Aging Center c/o Tamara Scott, 350 Parnassus Ave., Suite 905, San Francisco, CA 94143-1207 or online; or the donor's choice.