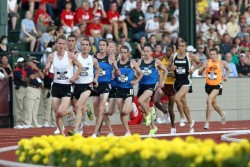 Matt Gabrielson (No. 4) runs second in the first heat of the men's 5,000-meter race on Friday.
EUGENE, ORE. — Former Drake standout Matt Gabrielson, a native of Belmond, Iowa, finished eighth in the finals of the men's 5,000 meter run Monday night at the U.S. Olympic Track and Field Trials.
Gabrielson was clocked in 13 minutes 38.06 seconds, just off his personal best of 13:30.68. He will not receive a berth on the U.S. Olympic men's track and field team.
While at Drake, Gabrielson was a 12-time All-Missouri Valley
Conference Performer, a USATF Junior All-American in the 1500 and a
Cross Country Academic All-American.
He also was a five-time Missouri Valley Conference champion at Drake from 1998-99 with
three indoor distance medley relays, the 3,000 indoor, and the 3,000
steeplechase outdoors.
The final official results of Monday night's race are listed below:
1. Bernard Lagat Nike 13:27.47

2. Matt Tegenkamp Nike 13:29.68

3. Ian Dobson Adidas 13:29.76

4. Bolota Asmerom Oregon TC Elite 13:31.24

5. Chris Solinsky Nike 13:32.17

6. Robert Curtis Reebok 13:35.00

7. Stephen Pifer Colorado 13:37.46

8. Matthew Gabrielson Reebok 13:38.06

9. Brent Vaughn Nike 13:39.15

10. Thomas Morgan ZAP Fitness 13:47.76

11. Kyle King ZAP Fitness 13:51.03

12. Ryan Vail Oklahoma State 13:54.77

13. Jonathon Riley Nike 13:57.58

— Adam Goucher Nike DNF

— Galen Rupp unattached DNS