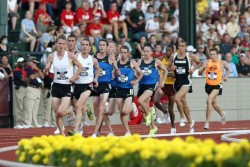 Matthew Gabrielson (No. 4) runs in second place in the first heat of the men's 5,000-meter run.
MEDIA CONTACT: Mike Mahon, 515-271-3014, mike.mahon@drake.edu
EUGENE, ORE. — Former Drake track standout Matt Gabrielson moved a
step closer toward earning a berth on the U.S. Olympic men's track and
field team Friday night.
Gabrielson, a five-time Missouri Valley Conference champion at
Drake from 1998-99, placed eighth in heat one of the men's 5,000-meter
run being clocked in 14 minutes 0.92 seconds.
The Belmond, Iowa, native posted the 12th-fastest time of the 23 runners. The top 16 qualified.
"The only thing I was thinking about was when the break would be
made," Gabrielson said. "I was thinking don't let these guys get away."
He advances to tonight's final, which will start at 11:40 p.m. Iowa time.
The U.S. Olympic Trials will be televised on the USA Network from 10 p.m. to midnight Iowa time.
While at Drake, Gabrielson was a 12-time All-Missouri Valley
Conference Performer, a USATF Junior All-American in the 1500 and a
Cross Country Academic All-American.
He also was a five-time Missouri Valley Conference champion —
three indoor distance medley relays, the 3,000 indoor, and the 3,000
steeplechase outdoors.