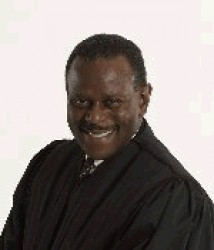 Polk County District Judge Odell McGhee II
Polk County District Judge Odell
McGhee II, a 1977 graduate of Drake Law School, recently was elected president
of the statewide Iowa Judges Association. The vote, which was unanimous, took
place at the association's annual meeting on June 18.

Judge McGhee is the first African
American to be elected president of the organization, which represents the
social and governmental interests of Iowa judges on the state and national
level.
McGhee was appointed to the bench
in 2002 in the Fifth Judicial District, which includes Des Moines. He is well
known in the community and throughout the state as a jurist interested in human
rights, First Amendment protections and children rights.
He told the Iowa Judges
Association that he hopes his year as president will be "inspirational,
unique and revitalizing." He noted that the challenges to the
judiciary in today's world are great, adding that judges should never lose
sight of their deepest values.
"In short," he said,
"the critical ingredient is supplied by what is in the judge's heart —
real justice and peace." He added that judges should have empathy for the
disadvantaged and be willing to "investigate alternatives to traditional
resolutions to people problems and take chances considering each citizen
individually.
"This is not judicial
activism," he concluded, "but a genuine need, if our courts are
to not only punish, but to help people mend their lives and become
productive."
McGhee was born in Liberty, Miss.,
on July 11, 1952. When he was 13, his parents moved the family to Chicago,
where he completed junior and senior high school. He attended the University of
Illinois, then transferred to Cornell College in Mount Vernon, Iowa, where he
received a bachelor's degree in 1974. He enrolled at Drake Law School and
received his Juris Doctor degree in 1977.
He later served on the Law
School's Board of Counselors and was an adjunct faculty member at the Law
School and Des Moines Area Community College. He is married to Jacqueline
Easley, an executive at Mercy Hospitals and a member of the Drake Board of
Trustees. They have two children: Carey and Ty.
Judge McGhee was elected to the
national board of the National Bar Association and was president of the Iowa
National Bar Association for more than 10 years. He was elected group chair of
the National Prosecutor Association and was active in committee work. He has
served on several special committees of the Iowa State Bar Association and on
the Executive Board of the Polk County Bar Association.
After graduating from Drake Law
School, McGhee worked as a program planner with the Iowa Commission on the
Aging, where he developed a statewide legal delivery system for older Iowans.
He then joined the Iowa Department of Environmental Quality as an
administrative hearing officer.
In 1982, he went to work for the
Polk County Attorney's Office, where he supervised the drug and vice docket for
five years and was the lead attorney for the prosecution of felonies in the
General Crime Bureau. He was then assigned to the Major Offense Bureau, where
he dealt primarily with white-collar crimes and vehicular homicide. He also
spent five years in the Civil Division, developing an expertise in defending
discrimination suits filed against Polk County.
In his spare time, Judge McGhee
directs the Langston Hughes Company of Players, a local minority theatrical
troupe that presents the history of African Americans through music, dance and
the written word.