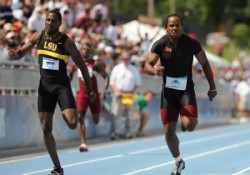 Walter Dix (right)
Walter Dix won his third consecutive 200-meter title
helping Florida State capture its third straight men's team crown Saturday at the
NCAA Track and Field Championships at Drake Stadium.
Louisiana State edged defending champion Arizona State for
the women's title with 67 points to 63 by the Sun Devils with the result coming
down to the meet's final event, the 1,600 relay.
The two teams entered the race tied with 59 points. LSU
finished second for eight points, Arizona State fifth for four points.
"We sure did (know the team situation) and you feel good
when you're going in with one of the top-ranked 4×400 relays," said Dennis
Shaver who guided LSU to its first national title in his four years as a head
coach. "But I have to say that it's a great track meet. There are some
great teams here and any one of us could have won it."
The final day of the meet was held under partly sunny skies
in front of a crowd of 11,410 at Drake Stadium, where 19 stadium records fell
in the four days of competition. The stadium, home of the Drake Relays, last
was site of the NCAA championships in 1970.
The recent four-day meet drew 41,187 fans. In the first two days the championships drew more than 18,450 spectators — almost 5,500 more than the 2007 meet held in Sacramento, Calif., which had a crowd of 13,125 over the same time period.
Arizona State senior Jacquelyn Johnson won the heptathlon
to become the first four-time champion in the history of the event, having won
in 2004, 2006, 2007 and 2008.
She became the fourth athlete in the history of the NCAA
Outdoor Track and Field Championships to win an event four straight years,
joining Suzy Favor Hamilton, Wisconsin (1,500 1987-90); Seilala Sua, UCLA
(discus, 1997-2000); and Angela Williams, USC (100, 1999-2002).
Her 6,053 points were the ninth best in the history of the
event. There have also been four two-time champs and one three-time winner
since 1982. Her total set a stadium mark, breaking the 1990 record of 5,802 by
Russian Tatyana Zhuravola.
Dix, in his final race as a collegian, held off 100
champion Richard Thompson of LSU to win in 20.40 seconds. Thompson was second
at 20.44.
Florida State finished with 52 points. LSU and Auburn tied
for second with 44.
Auburn's Cory Martin won the shot put at 66-9.25. He
became the first to win the hammer and shot at an NCAA championship since Jack
Merchant of California in 1922. Martin won both events on his final throw.
Hannah England of Florida State set an NCAA meet record in
the women's 1,500 at 4:06.19.
Erica McLain of Stanford won the triple jump with a
wind-aided 47-11 on her last attempt, the second-longest mark by an American
under any conditions.
Penn State senior Shana Cox became the Nittany Lions'
first female NCAA champ on the track, winning the 400 in 50.97. She came back
to anchor Penn State to victory in the women's 4×400 relay.
Texas junior Jacob Fernandez broke a 30-year-old stadium
record (Randy Wilson, Oklahoma, 1:45.86, 1978) with his 1:45.31 win over
Oregon's Andrew Wheating (1:45.32).
The top five runners in the finals of the men's 400 –
Andretti Bain of Oral Roberts (44.62), Lionel Larry of USC (44.63), Baylor's
LeJerald Betters (44.83), Washington's Jordan Boase (44.83) and Calvin Smith
Jr. of Florida (45.14) – recorded personal bests.
Championship results are available online.