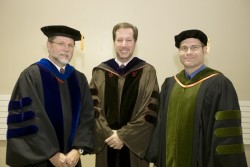 Jim Dodd, President David Maxwell and Geoffrey Wall pose for a photo at Drake's Undergraduate Commencement Ceremony.
Drake University's top awards for faculty and staff recently were presented to James Dodd, the Aliber distinguished professor of accounting; and Geoffrey Wall,associate professor of pharmacy practice.
Dodd received the 2008 Madelyn Levitt Teacher of the Year award, which recognizes the Drake faculty member who best demonstrates excellence in teaching, inspirational leadership and intellectual rigor, at Drake's Undergraduate Commencement Ceremony on Sunday, May 18.
Later that day at the graduate commencement ceremony, Wall received the 2008 Madelyn Levitt Mentor Award, which recognizes faculty and staff who exhibit outstanding commitment to student success in and out of the classroom, as well as integrity in personal relationships.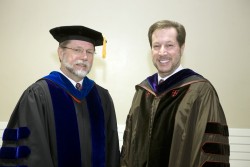 Jim Dodd and President David Maxwell during Sunday's undergraduate ceremony.
Dodd: The Levitt Teacher of the Year

Students say Dodd's enthusiasm for accounting is "contagious," and he takes a genuine interest in helping students to find careers that fit their skill sets and objectives, both professionally and personally.
An alumnus commented, "The balance sheets of many organizations do not include their most important assets — their people. Drake is no exception. Dr. Dodd stands out as a truly exceptional teacher who adds immeasurable value to the educational experience of Drake students."
Dodd, a two-time recipient of the Fulbright Scholar grant, which allowed him to teach in both Norway and Iceland, has excelled in creating a student-centered learning environment in his classes.
Dodd joined Drake in 1992 after earning his Ph.D at the University of Georgia. Dodd worked in corporate manufacturing for 15 years. It was there he found that the most rewarding experiences came from working on small teams challenged to solve problems, develop new international markets, apply the newest technologies and motivate others.
Among his contributions to Drake, Dodd designed an accounting course, which involves students playing a supplemented version of the game "Monopoly." Over a seven-week period, students produce financial statements representing the results of their Monopoly play for each of the seven simulated years. Subtle rule changes each year help to create transactions that lead to an in-depth understanding of the accounting cycle and the resultant financials.
"The most rewarding part of teaching is when that one student discovers something, when the 'light bulb' is turned on," said Dodd. "You can see it on the face and hear it in the tone of their voice; the student says 'Ah ha' or 'Oh yeah.'"
"The teacher's challenge," Dodd added, "is to cultivate the 'Ah ha' with little expectation of actually seeing or hearing it."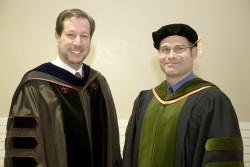 President David Maxwell congratulates Geoffrey Wall on receiving Drake's Levitt Mentor of the Year Award.
Wall: The Levitt Mentor of the Year
Wall, who joined Drake's College of Pharmacy and Health Sciences in 1999, has shown dedication to teaching, scholarship and the future professional development of his students. He works with students in the capstone advance practice experience rotations, specifically with internal medicine and critical care.
"Around 50 percent of our students request Geoff's rotations as their first choice, and each year every slot he gives me for students is filled," said Denise Soltis, director of pharmacy experiential programs. "Every year I have someone in my office in tears because they didn't get Dr. Wall's rotation."
In addition to mentoring students in rotation, he teaches clinical pharmacokinetics and therapeutics.
In a number of letters of recommendation, colleagues, students and alumni cite Wall's enthusiasm, dedication and encouragement in motivating them to look beyond surface opportunities and set higher goals.
"Webster's Dictionary defines mentor as a 'trusted counselor or guide; tutor; coach.' These terms are embodied in Dr. Wall," said Carrie Koenigsfeld, associate professor of pharmacy practice. "He believes in what he does and knows that the future of pharmacy lies with the students. Ultimately, students respect him."
Wall has been recognized by the College of Pharmacy as the Hartig Distinguished Professor, Mentor of the Year and twice as Preceptor of the Year.
"On a more personal level, I try to establish a relationship of trust, collegiality with students, to see me more as a colleague and less as 'THE PROFESSOR,'" said Wall. "I feel this establishes a thorough communication link, whereby students can approach me with ease and trust.
"Among the most rewarding times of my career," Wall added, "have been when former students now pharmacists practicing at a high level, cite me as an influence in their career choice."