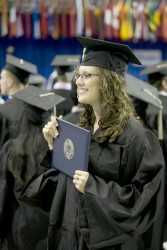 CONTACT: Tory Olson, 515-202-1549, tory.olson@drake.edu
More than 1,500 undergraduate and graduate students
celebrated their commencement rites of passage at Drake University's graduation
ceremonies last Sunday.
Seniors were honored at the Undergraduate Commencement
Ceremony, which featured a keynote address by Drake President David Maxwell.
Read President Maxwell's graduation remarks online. A photo gallery of graduates and the celebration also is available online.
In
addition, Dan Sadowski, recipient of the University's Oreon E. Scott Award for
the most outstanding senior, gave a commencement address. He advised his fellow
seniors to, "pick your passion and embrace it, and do it to the best of
your abilities."
Later that afternoon, graduate students collected their
diplomas at Drake's Commencement Ceremony for Graduate and Doctoral Degree
Recipients. View a photo gallery of graduates and the ceremony online.
Streaming video of the undergraduate and graduate ceremonies is available online on the Drake Telemedia Center's Web site.
There are many inspirational stories among these graduates
in the class of 2008. Here are a few of them.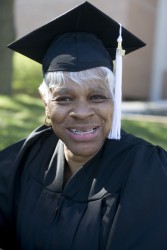 Genea McMillion
Aspiring teacher earns diploma after 16-year Drake career
After facing difficulties including illness and financial obstacles, Marr Genea McMillion celebrated 16 years of work to achieve her lifelong dream of earning a bachelor's degree on Sunday.
McMillion, 58, began her education at Drake at the age of 42, and was one of approximately 750 students who graduated at Drake's Undergraduate Commencement Ceremony on Sunday.
McMillion of Des Moines came to Drake in 1992 after earning an associate degree in liberal arts from Des Moines Area Community College. She took three classes each semester at Drake in the mornings and afternoons. Then, she worked as a custodian at Roosevelt High School from 3 p.m. to midnight.
Previously, she worked as a bus driver for the Des Moines Public School District. It was on the bus, listening to kids, where she discovered a collective lack of knowledge about history that inspired her to major in history in hopes of becoming a history teacher.
McMillion is the first of her mother's children to finish college. After graduating with a bachelor's degree in history, she plans to take her education courses at Drake and then begin student teaching in the Teacher Quality Program.
The program, funded by a federal grant, aims to increase diversity and the number of teachers in urban areas. The funding provides four years of certification coursework and McMillion will receive tuition, books, a laptop computer and child care. The program will lead to a teaching position for McMillion in the Des Moines Public Schools.
Until she gets her own classroom, McMillion plans to continue to run her day care where she and her husband, Herbert, are responsible for eight children, including their 5-year old son, Mykel.
Read more about McMillion's journey in a recent Des Moines Register article online and a story by Radio Iowa on its Web site.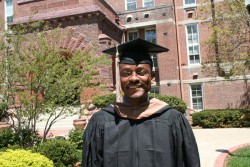 Paul Muvembi
Grad student conquers financial obstacles to earn Drake diplomas
Working his way through college, Zimbabwe native Paul Muvembi borrowed all his books and built a computer out of parts he salvaged from his classmates' castoffs.
Muvembi, 24, who graduated from Drake with a bachelor's degree in actuarial science and finance in 2006, collected his second Drake diploma on Sunday. He received his master's degree in financial management at Drake's Commencement Ceremony for Graduate Degree Recipients.
Muvembi's greatest challenge during his Drake career was getting tuition paid every semester.
He came to the United States in 2003 and began working as a dish washer, production line worker and waiter to save money for college. He even traveled to work in the United Kingdom during the summer of 2003.
When he started at Drake in 2003, a normal day for Muvembi would start at 2 a.m., when he would borrow books from other students and study while they were sleeping. He would return the books at 8 a.m. when his classmates woke up, and then go to class and work.
Since he started at Drake, Muvembi has worked 20-hour weeks during the academic year and 40-hour weeks during school breaks.
While supporting himself through school, Muvembi also has been providing his sister, Sekai, with funds to attend college at the University of Cape Town in South Africa.
From working at the Student Accounts Office on Drake's campus to Principal Bank to studying, Muvembi says he was still able to find time for a little fun. His hobby: salsa dancing.
After graduation, he hopes to find a full-time actuarial job in Des Moines.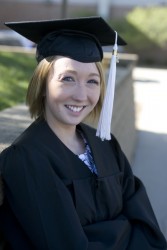 Sarah Moritz
Senior takes break from working
on Hollywood film to collect diploma

Even before Sarah Moritz of Clive
walked the stage at graduation, she already landed a job working on the new
movie "Peacock," starring Ellen Page, Cillian Murphy, Susan Sarandon,
Bill Pullman and Josh Lucas.
Moritz, 22, took her only day off
from her production assistant position to participate in Drake's Undergraduate
Commencement Ceremony on Sunday.
When she received a call from
Cornfield Productions, Moritz never dreamed she'd be shooting a movie. She
thought the company was looking for someone to work on wedding videos, but
during the interview she asked, "What exactly are we doing?"
The answer: a position working on
a Hollywood movie, came as a shock to Moritz. There was no doubt Cornfield was
looking for someone with her expertise — a double major in electronic media
and sociology, which made her a perfect fit for the job.
Moritz started the job three weeks
ago, juggling the last week of class and finals week with work, sometimes
writing one paragraph per day after work to complete papers. She said
professors were flexible by allowing her to send in her work and papers via
e-mail.
For the next five weeks, Moritz
will use her Iowa roots to work with extras, mostly Iowa natives, on the movie
set in small Iowa towns including Odebolt, Osceola, Lorimer and Greenfield.
"Peacock" is a
psychological thriller in which Cillian Murphy plays a character with a split
male/female personality. Murphy pretends to be both himself and his wife in the
movie…and someone gets murdered.
After her gig with
"Peacock," Moritz plans to return to life as a DJ on Des Moines Radio
Group's Lazer 103.3, where she has worked nights while going to school.
Moritz graduated on Sunday with approximately
750 seniors. She received a bachelor's degree in journalism and mass
communication, as well as a bachelor's degree in sociology.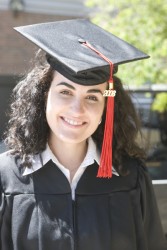 Maria Cosma
Romania native manages life as full-time student and business owner
When asked to describe her biggest obstacle during her Drake career, Maria Cosma's answer wasn't juggling a full course load and owning a business. For Cosma, 22, the culture shock from moving from Romania to Des Moines in 2004 was her greatest challenge, and managing a business and school was comparatively easy.
Cosma and her boyfriend, Oz Kapic of Croatia, 26, dreamed of bringing what they missed the most about home — the European coffee culture — to Des Moines.
They opened the Black Cat Café at 3701 Ingersoll Ave. in October 2007.
Cosma said prioritizing was the only way to make everything work, and sometimes she even had to choose between going to class or attending a City Council meetings to get permits and licenses approved for the business.
The Des Moines and Drake communities have been very welcoming, Cosma said. She praises all of the people who have been supportive and have helped make the Black Cat Café possible.
She found time to be a global ambassador with Drake's Center for Global Citizenship and was active in the Verge Advertising Club at Drake. Her background in her majors — international relations and creative advertising with a minor in graphic design — were assets to her when developing the business plan and operating the café.
Cosma joined fellow graduates on Sunday for Drake's Undergraduate Commencement Ceremony. She collected a bachelor's degree in international relations and a bachelor's degree in journalism and mass communication.
After graduation, Cosma plans to continue to own and run the café. She also hopes to go the summer school at Studio Art Centers International in Florence, Italy, and then attend Chicago Portfolio School to gain credentials for a career as a creative director.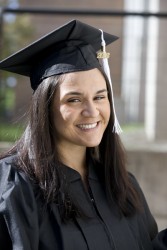 Becca Coronado
Drake graduate hopes to draw from her experiences to help others
Becca Coronado, 28, graduated on Sunday with a bachelor's degree in sociology. Coronado is a single mother and she and her 18-month old son Desemes have been staying at the Hope Family Women's Facility.
Coronado has overcome challenges including homelessness and financial obstacles to earn her undergraduate degree from Drake.
After graduating, she hopes to go on to Law School and become an advocate for people who face challenges similar to those she has seen on her journey.
Read more about Coronado's story in a recent Des Moines Register article online.