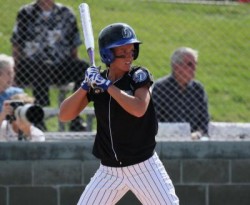 Kristin Birocci
EVANSTON,
ILL. – A two-out,
two-run home run by Michelle Neubauer in the bottom of the sixth inning broke a
1-1 tie lifting Western Illinois to a 3-1 victory over Drake in NCAA Tournament
softball action on Saturday, May 17, at Sharon J. Drysdale Field.

The
game-winning hit was the first homer of the season for Neubauer, who extended
the Westerwinds' season at 15-32, while concluding Drake's campaign at 29-26.
Freshman
pitcher Brynne Dordel (Chanhassen, Minn./Chaska) was rolling in the sixth retiring the first two
batters on groundouts before a walk to Julie DePolo opened the door for
Neubauer's heroics.
Julie
DePolo gave the Westerwinds a 1-0 lead in the bottom of the second connecting
on a 2-1 Dordel offering for her fourth home run of the season over the wall in
left.
The
Bulldogs responded with a salvo of their own in the top of the third inning as
sophomore Kelsey Kahler (North
Liberty, Iowa/Clear Creek Amana) dropped down a perfect bunt to begin the
frame. She moved into scoring position swiping second base before sophomore Carrie Hatfield (Des
Moines, Iowa/East) advanced her to third on a sacrifice bunt. Coming through
with a two-out single up the middle to square the contest at one was senior Kristin Birocci (Des
Moines, Iowa/Lincoln).
The game
remained tied over the next two frames before Western Illinois started a
two-out rally in the bottom of the fifth with back-to-back singles. With
runners on first and second, Samantha Valentine tagged a 0-1 Dordel pitch for
what off the bat looked destined for a bases clearing double. Birocci though
refused to give up on the ball making a sprawling diving catch going to her
left to thwart the rally.
Birocci
and fellow senior Marilyn Buss (West Des
Moines, Iowa/Valley) each recorded a base hit in their final game donning the
Drake uniform.
Dordel
struck out three, while suffering the loss to fall to 19-12 in going the
distance for the Bulldogs. Lori Pankratz notched the victory for Western
Illinois and upped her ledger to 9-13.