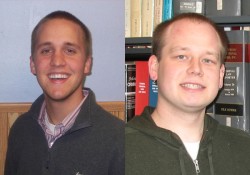 Dan Sadowski and Nathan Swanson
MEDIA CONTACT: Lisa Lacher, 515-271-3119, lisa.lacher@drake.edu, or

Tory Olson, 515-271-1834, tory.olson@drake.edu
Two Drake University students have received Rotary Foundation Ambassadorial Scholarships for the 2008-09 academic year. The scholarships will enable them to travel and study overseas, stimulating good will and international understanding through presentations and service projects.
An undergraduate and a law student were selected as the scholarship recipients.
Dan Sadowski of La Salle, Ill., is a senior majoring in biochemistry, cell and molecular biology. He will be based in Oslo, Norway, where he will take courses at the University of Oslo in two master's programs: International Community Health and Health Economics, Policy and Management.
Sadowski, who served as student body president this year, recently won the Oreon E. Scott Award, which is presented annually to the most outstanding senior. He will be one of the featured speakers at Drake's 127th Undergraduate Commencement Ceremony on Sunday, May 18.
Nathan Swanson is a third-year Drake law student from Lynn Center, Ill. He will be based in Cairo, Egypt, where he will study Arabic and international human rights law at American University in Cairo. He also will take an active role in service projects in Egypt. In addition to completing his law degree at Drake this spring, Swanson plans to graduate from Iowa State University in August with a master's degree in political science.
Swanson recently received the William and Ellen Cooney Hoye Award, which is presented to the graduating law student who, in the opinion of the faculty, demonstrates the greatest promise as an advocate, a public servant and a practitioner. He also took first place in this year's Supreme Court Day Writing Competition, which was judged by members of the faculty and the Iowa Supreme Court. He served as president of the International Law Society and research editor for the Drake Law Review.
Scholarship programs to start in August



Both Swanson and Sadowski will begin their travels in August.
"I am anticipating a very rewarding experience in both the service and academic aspects of my time in Cairo," Swanson said. "I am eager to trade some of the rigors of law school and grad school for the challenges of living in and working with another culture."
"In addition to my studies at the University of Oslo, I plan to visit numerous Rotary clubs, giving presentations on my life and experiences as an American student from the Midwest," Sadowski said. "I also will engage in service centered around my career focus: health care."
The scholarship awards are intended to help cover round-trip transportation, one month of intensive language training (if assigned by the foundation), academic fees for a normal course load, room and board expenses and educational supplies.
Scholarships designed to promote international understanding



The primary purpose of the Rotary Foundation Ambassadorial Scholarships Program is to further international understanding and relations among people of different countries.
During the study period, scholars are expected to be outstanding ambassadors of good will to the people of the host country through both informal and formal appearances before Rotary clubs and districts, school and civic organizations and other forums. After study has been completed, scholars share their experiences with the people of their home countries and with the local Rotarians who sponsored their scholarship.
Sadowski will represent the La Salle Rotary Club in his hometown while Swanson will represent the Des Moines area Rotary Clubs.
The Rotary Foundation is a not-for-profit organization supported solely by voluntary contributions from Rotarians and friends of the foundation who share its vision of a better world.
For more information about the Rotary Foundation, visit its Web site.
More information about Rotary Foundation Ambassadorial Scholarships is available online.