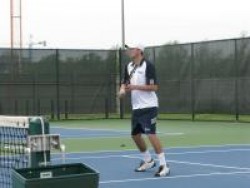 Dalibor Pavic
Drake senior men's tennis player Dalibor Pavic (Adelaide, Australia) was honored for his remarkable 2008 campaign as he was named as the Intercollegiate Tennis Association's Central Regional Senior Player of the Year.
Pavic joins seven other regional winners in competition for the national award, which will be announced following the conclusion of the upcoming NCAA Championship in Tulsa, Okla.
Tabbed as 2008 MVC Player of the Year, Pavic registered a team-best 61-9 combined singles/doubles mark this season, including 36-4 in singles play. He finished tied with Robert Novotny (1993-97) atop the all-time victory list at Drake with 206 and qualified for 2008 NCAA Championships in singles.
Teaming with Maor Zirkin, the duo earned their second straight first team All-MVC doubles honors at the No. 1 slot after going 6-0 in league play. In addition, Pavic was tabbed for the second consecutive season as a first team All-MVC selection in singles, while being a three-time MVC Player of the Week honoree this spring.
Turning in a masterful fall season, Pavic finished with a 19-6 combined singles/doubles ledger. He defeated two ranked opponents, including No. 20 Blake Strode of Arkansas to become the first Drake player to reach the finals of the ITA Central Regional.
Despite falling in the finals, he became the first Bulldog men's tennis player to qualify for ITA National Indoors. He downed No. 5 Luke Shields of Boise State, 4-6, 6-3, 6-3, and No. 37 Conor Pollack of Texas A&M to reach the event's quarterfinals, where 2007 NCAA outdoor champion Somdev Devvarman of Virginia ended Pavic's run with a 6-4, 6-3 victory.