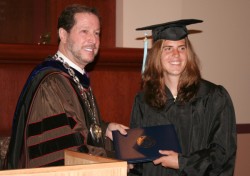 President Maxwell congratulates Marilyn Buss at Monday's ceremony.
Five members of Drake University's track and softball teams were honored Monday in a special commencement ceremony for student-athletes who will be unable to attend Sunday's Undergraduate Commencement Ceremony because of conference and national competitions this weekend.
Drake's track team will compete Friday and Saturday in the MVC Championships and the University's softball team will compete Friday in the first round of the NCAA Tournament.
"We recognize the importance of commencement to seniors and their families," said Drake President David Maxwell, who donned his cap and gown for the ceremony in Levitt Hall in Old Main. "We know how hard our student-athletes have worked in all aspects of their lives at Drake, so we want to be sure that we recognize in an appropriate way the accomplishments of today's honorees."
President Maxwell then addressed his remarks to the graduating seniors. "It is my hope that you remember with appreciation always the faculty, staff and coaches who enriched your education and athletic success at Drake. May you keep in contact with your classmates and teammates with whom you shared the Drake Experience; and may you remember with gratitude your family and other special friends who over the years encouraged you, and sacrificed much for you, to make this day possible."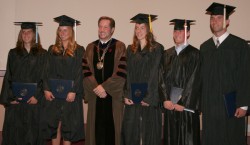 President David Maxwell poses with (from left) Marilyn Buss, Susan Slycord, Sarah Hamling, Evan Jurkovich and Jaron Van Maanen.
Maxwell then formally bestowed baccalaureate degrees upon the five students:
Sarah Hamling, graduating cum laude with degrees in neuroscience and psychology. A native of Council Bluffs, Iowa, she is a Presidential Scholarship recipient and a member of the Dean's List. She competed in cross country and indoor and outdoor track and field for five years. She was voted "Top Senior" in cross country as well as team captain. She has applied to pharmacy graduate programs at Drake and Boston University.
Evan Jurkovich, graduating magna cum laude with degrees in politics and news/Internet. A native of Edina, Minn., he is a member of Phi Beta Kappa and many other honorary societies. He served three years on the Student Athlete Advisory Committee and was instrumental in organizing this year's Student Athlete Career Dinner. Although he suffered a severe Achilles injury early in his college career, Jurkovich still managed to become a three-time letter winner in cross country, indoor track and outdoor track. He is seeking a career in the Washington, D.C., area.
Jaron Van Maanen, graduating with a degree in finance and marketing. A native of Sully, Iowa, Van Maanen was named Missouri Valley Conference Scholar Athlete in 2006 by placing third in the high jump and compiling a grade-point average above a 3.0. He is one of the most versatile athletes in the history of Drake's track and field program. In addition to competing in his main event — the high jump — he has run on the 4 by 100 and 4 by 400 meter relays. He has been an MVC scorer twice in the hurdles and once in the triple jump and he will perform these same events in the MVC Championships this Friday and Saturday in Lincoln, Neb. He will compete later this month in the high jump for a chance to qualify for the NCAA Championships. He has accepted a job with the Federal Deposit Insurance Corp. in West Des Moines, Iowa.
Susan Slycord, graduating with a degree in biology and a cumulative GPA of 3.72. A native of West Des Moines, Slycord plans to attend medical school at Des Moines University. She is a Presidential Scholarship recipient and a member of the Dean's List. She is a career .248 batter at Drake while appearing in 202 softball games during her career with the Bulldogs. She has hit 18 home runs during her career as a Bulldog, which puts her fourth all-time at Drake.
Marilyn Buss, graduating cum laude with a degree in secondary education. A native of West Des Moines, Buss has secured jobs as a teacher at Weeks Middle School and an assistant softball coach at West Des Moines Valley High School. She has maintained a 3.55 GPA and been named to the Dean's List. In softball, she led the Bulldogs this season with a .307 batting average and was named to the all-Missouri Valley Conference second team and the MVC All-Tournament Team. She has appeared in 210 career games at Drake and posted career bets in batting average, hits, home runs and RBIs this season.

"It was a really personal ceremony and great that Drake made the effort to do this for us because we won't be able to make our graduation because of competitions," Buss said after the ceremony. "I really liked how they talked about each of us and made it personal.

Jurkovich agreed, saying, "It's just really great that they are able to do this for athletes who have to compete. We all know we are really here for academics and it is unfortunate that the graduation and competitions fall on the same weekend, but I'm glad it could all work out."