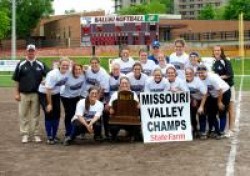 The Bulldogs celebrate winning the Missouri Valley Conference Tournament and earning an automatic berth in the NCAA Tournament.
The Drake women's softball team will face DePaul at noon in the opening round of the NCAA Tournament Friday, May 16, in Evanston, Ill.
Host Northwestern will face Western Illinois in the other regional game at 2:30 p.m. at the Sharon J. Drysdale Field. The regional will continue through Sunday.
Evanston is one of 16 regional sites hosting a double-elimination tournament.
The regional winners will advance to super regional competition for a best-of-three series May 23-24 at eight campus sites.
Drake, which owns a 29-24 record, earned an automatic berth in the 64-team bracket after beating Missouri State, 7-2, in the championship of the State Farm Missouri Valley Conference Tournament in Carbondale, Ill., Saturday.
It will mark Drake's second appearance in the NCAA Tournament. The Bulldogs made their inaugural appearance in the NCAA Tournament in 1994, competing at an NCAA Regional in Lawrence, Kan.
The No. 20/23 DePaul softball team, which stands 48-16, wrapped up the school's first Big East Conference Championship with a 4-1 victory over South Florida in the championship game at the University of Louisville's Ulmer Stadium.
Drake and DePaul have played one common opponent — Iowa. DePaul beat the Hawkeyes, 4-3, in Columbus, Ga., March 1. Iowa clipped Drake, 4-1, in Minneapolis, Minn., Feb. 17 but the Bulldogs rebounded to earn a 4-3 home triumph against the Hawkeyes April 22.
"I'm excited for our team and fans in that we are only playing five hours away from campus," said Drake softball coach Rich Calvert. "It is a very difficult region with good powers in Northwestern and DePaul which are top 20 teams ranked annually. Western Illinois is playing better softball than they have all year.
"It is post-season, so we have to take it one game at a time. We will have to continue to pitch well, play defense and hit the ball."
Western Illinois, which is 14-31, won the Summit League Tournament championship beating IPFW, 17-2, Saturday in Cedar City, Utah.
Drake opened the 2008 campaign beating Western Illinois, 6-3, in the MetroDome Tournament Feb. 15 in Minneapolis, Minn.
Host Northwestern, which owns a 37-13 record, captured the Big Ten Tournament title with a 1-0 victory against Iowa as sophomore Lauren Delaney fired her third-straight Big Ten Tournament shutout.
The University of Florida, which is 62-2, was named the No. 1 seed in the NCAA Division I Softball Championship.
Thirty conferences were awarded automatic qualification, and the remaining 34 slots were filled with at-large selections to complete the bracket.
The top 16 teams were seeded nationally. Team pairings were determined by geographical proximity, with the exception that teams from the same conference were not paired during regional competition, when possible.
DATES/SITES/PAIRINGS (* indicates host institution):
Gainesville Regional – May 16-18 at Gainesville, Florida

*No. 1 seed Florida (62-2) vs. Georgia Tech (31-29)

Central Florida (46-18) vs. South Florida (44-18)


Fresno Regional – May 16-18 at Fresno, Calif.

San Diego State (43-15) vs. California (40-24)

Sacramento State (32-19) vs. *No. 16 seed Fresno St. (51-11)
Baton Rouge Regional – May 16-18 at Baton Rouge, Louisiana

*No. 9 seed LSU (42-16) vs. Mississippi Valley St. (28-26)

East Carolina (36-28) vs. La.-Lafayette (46-12)


Houston Regional – May 16-18 at Houston, Texas

Washington (28-23-1) vs. Texas (28-21-2)

Delaware State (29-23) vs. *No. 8 seed Houston (50-9)


College Station Regional – May 16-18 at College Station, Texas

*No. 5 seed Texas A&M (49-7) vs. Stephen F. Austin (36-23)

Louisiana Tech (35-27) vs. Auburn (37-20)


Amherst Regional – May 16-18 at Amherst, Mass.

* Massachusetts (36-11) vs. Princeton (25-22)

Lehigh (38-15-1) vs. No. 12 seed Stanford (46-12)
Knoxville Regional – May 16-18 at Knoxville, Tenn.

*No. 13 seed Tennessee (47-14) vs. Winthrop (36-17)

Louisville (30-21) vs. Virginia Tech (44-15)


Ann Arbor Regional – May 16-18 at Ann Arbor, Mich.

Notre Dame (37-20-1) vs. Kent State (44-10)

Wright State (33-24) vs. *No. 4 seed Michigan (48-6)



Tuscaloosa Regional – May 15-17 at Tuscaloosa, Ala.

*No. 3 seed Alabama (51-6) vs. Chattanooga (41-20)

Jacksonville St. (38-14) vs. Florida St. (37-26)



Iowa City Regional – May 16-18 at Iowa City, Iowa

Missouri (44-15) vs. *Iowa (40-18)

Creighton (43-15) vs. No. 14 seed Long Beach St. (39-15)
Evanston Regional – May 16-18 at Evanston, Ill.

*No. 11 seed Northwestern (37-13) vs. Western Illinois (14-31)

Drake (29-24) vs. DePaul (48-16)



Tempe Regional – May 16-18 at Tempe, Ariz.

Mississippi St. (40-20) vs. Hawaii (38-18)

Stony Brook (33-21-1) vs. *No. 6 seed Arizona St. (56-5)
Hempstead Regional – May 16-18 at Hempstead, N.Y.

No. 7 seed Arizona (36-16) vs. Canisius (38-12)

Long Island (34-15) vs. *Hofstra (43-11)



Norman Regional – May 16-18 at Norman, Okla.

Arkansas (36-27) vs. Tulsa (34-23)

Oregon (33-27) vs. *No. 10 seed Oklahoma (43-12)



Chapel Hill Regional – May 15-17 at Chapel Hill, N.C.

No. 15 seed Georgia (43-22) vs. Campbell (41-23)

Brigham Young (42-18) vs. *North Carolina (50-10-1)



Los Angeles Regional – May 16-18 at Los Angeles, Calif.

Nevada (42-16) vs. Purdue (34-21)

Cal St. Fullerton (27-26-1) vs. *No. 2 seed UCLA (45-7)

* Hosting institution.


CONFERENCES RECEIVING AUTOMATIC QUALIFICATION:

America East – Stony Brook
Atlantic Coast – Virginia Tech
Atlantic 10 – Massachusetts
Atlantic Sun – Campbell
Big East – DePaul
Big South – Winthrop
Big Ten – Northwestern
Big 12 – Nebraska/Texas A&M
Big West – Long Beach State
Colonial Athletic – Hofstra
Conference USA – Central Florida
Horizon League – Wright State
Ivy Group – Princeton
Metro Atlantic – Canisius
Mid-American – Kent
Mid-Eastern – Delaware State
Missouri Valley – Drake
Mountain West – San Diego State
Northeast – Long Island
Ohio Valley – Jacksonville State
Pacific-10 – Arizona State
Pacific Coast – Cal St. Sacramento
Patriot League – Lehigh
Southeastern – Florida
Southern – Chattanooga
Southland – Stephen F. Austin
Summit – Western Illinois
Sun Belt – La.-Lafayette
Southwestern – Mississippi Valley St.
Western Athletic – Louisiana Tech