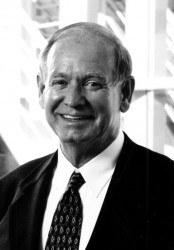 Robert D. Ray
MEDIA CONTACT: Tory Olson, 515-271-1834, tory.olson@drake.edu
Approximately 130 law students will don their caps and gowns and be honored at the Drake University Law School Commencement Ceremony at 7 p.m. Saturday, May 17, at the Drake Knapp Center. This year's graduating class is made up of students from 21 states and 60 colleges and universities.
The ceremony will be preceded at 6:45 p.m. by a bagpipe player leading a formal procession of law students and faculty wearing academic regalia to the Drake Knapp Center from Opperman Hall and Library, 2615 Carpenter Ave.
Former Iowa Gov. Robert D. Ray, a Drake alumnus who served as president of the University from 1998-99, will give a commencement address titled "Opportunities."
Ray is currently chairman of the Institute for Character Development, focused on civility and character development in Iowa. He also is chairman of the Earthpark Board and involved with Keep Iowa Beautiful, Iowa Games and the White House Commission on Presidential Scholars.
Ray served as governor of Iowa for five terms from 1969 to 1983. He has been involved as Iowa Republican State chairman, chairman of the Republican State Chairmen and a member of the Republican National Committee. He also was chairman of the National Governors' Association, Midwestern Governors' Association, Republican Governors' Association, president of the Council of State Governments, Chairman of the Educational commission of the States and other national organizations. In addition, Ray was a U.S. Representative to the United Nations.
He has received the Iowa Award, the state's highest citizen award; the Des Moines Register's first Iowa Star Award, which recognizes outstanding community involvement; and the National Volunteer Award. Ray also was named the Most Influential Iowan and recently was presented a Lifetime Humanitarian Award from the Herbert Hoover Presidential Library Association.
Ray graduated from Drake with a B.A. in business in 1952 and then earned his law degree in 1954. While at Drake, Ray served as student body president and was active in a number of fraternal organizations. He came to Drake after serving in the military in World War II.