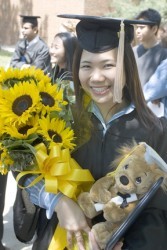 Rachel Tan is showered with sunflowers and a teddy bear after graduating last May.
MEDIA CONTACT: Tory Olson, 515-271-1834, tory.olson@drake.edu
Drake University students will don their caps and gowns this Sunday for ceremonies marking the commencement rites of passage.
Approximately 750 seniors will be honored at Drake's 127th Undergraduate Commencement Ceremony at 10 a.m. Sunday, May 18, at the Drake Knapp Center, 2525 Forest Ave.
A highlight of the ceremony will be a keynote address by Drake President David Maxwell and a speech by Dan Sadowski, recipient of the University's Oreon E. Scott Award for the most outstanding senior.
In addition, nearly 550 graduate students will be recognized at Drake's Commencement Ceremony for Graduate and Doctoral Degree Recipients at 2 p.m. Sunday, May 18, at the Drake Knapp Center. Bob Woodward, professor emeritus of journalism, will deliver the commencement address.
Drake's commencement celebration also will include:
Commencement Lunch — 11:30 to 1:30 p.m., Sunday, May 18, Hubbell Dining Hall, 1315 30th St. Cost is $6.75 at the door.
For more information about commencement, call Student Records at 515-271-3093 or 515-271-3901.