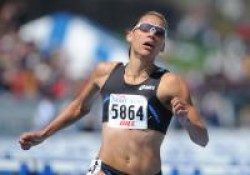 Lolo Jones
Hill,
Jones lauded as outstanding performers at Drake Relays
Georgia
sophomore Chris Hill and reigning World Indoor champion Lolo Jones, who both
set meet records, were named the outstanding men's and women's performers,
respectively, of the 2008 Drake Relays April 24-26.
Hill
was honored with the Maury White Award, named after the longtime decorated
sportswriter for the Des Moines Register, who died in 1999.
Hill
set a Drake Relays record in the university-college javelin at 268 feet 1 inch,
which is the best throw by any collegian in the United States this spring as
well as the second best overall throw by an American.
Jones,
a graduate of Des Moines Roosevelt High School, captured her fourth straight
Drake Relays title. She was clocked in 12.74 seconds, just off her 2008 world
leading time of 12.72, but good enough to break her previous Drake Relays mark
of 12.93 set in 2005.
Jones
also bettered the Drake Stadium mark of 12.92 set by former Illinois star
Perdita Felicien in 2001.
In
addition, Jarred Herring, a senior at Burlington High School, and A.G.
Bradford, a senior at Davenport North High School, were named the outstanding
high school boys' and girls' performers, respectively.
Herring
was named recipient of the Robert Kramme Award as the outstanding high school
boys' performer. He won the 100-meter dash in 10.69 seconds and ran the anchor
legs on Burlington's winning 4×100 (43.07) and 4×200 (1:29.93) relays.
Bradford
was became the fourth athlete in Drake Relays history to capture titles in both
the high school girls 100 and 400 hurdles. She defended her crown in the 100
hurdles on Friday in 14.24 and came back to set a Drake Relays record in the
400 hurdles on Saturday in 1:01.01.
Bradford
also placed second in the girls' high jump at 5-9. She also ran the anchor leg
on Burlington's sprint medley relay, which placed third in 1:49.84.
An audio slideshow video of athletes at the 99th running of the Drake Relays is available online. A photo gallery also is available on the Web site.
Drake
Relays featured event for top pole vaulters
The 99thrunning of the Drake Relays included an event for outstanding pole vaulters
from across the United States at Jordan Creek Town Center Mall in West Des
Moines, Iowa.
Nearly
2,000 shoppers at the mall, gathered to watch a two-hour performance by the top
pole vaulters in the United States.
"This
event was better than I ever envisioned," said Drake Relays director Brian
Brown. "I look forward to doing it again next year when the Drake Relays
celebrates its 100th birthday."
Derek
Miles, who finished seventh in the 2004 Olympics, won the event, clearing 18
feet 8.75 inches on his second attempt.
"I've
jumped in a lot of different venues, a lot of street meets and things like
that, but I've never done it in a mall," said Miles. "So it is kind
of a different experience, even at my age. It was great.
"When
we first got here it was the middle of the afternoon and the next time I looked
up, there were just tons of people here and they just had a level of enthusiasm
that just didn't quit. For two hours that is pretty impressive."
Mark
Hollis was second after clearing the same height on his third attempt. It
marked a personal best for Hollis who also reached the Olympic Trials
qualifying standard.
American
indoor and outdoor record holder Jeff Hartwig placed third at 18-5. Hartwig
helped Brown organize the event.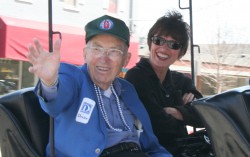 Grand Marshal Paul Morrison and his daughter, Holly Dierks, both Drake graduates, wave to the crowd.
Relays week began with festive parade
Students and members of the Des Moines community gathered around Drake's campus for the annual Relays Parade on Sunday. Paul Morrison, a 1939 graduate of Drake, was the marshal in the parade that kicked off the 99th running of the Drake Relays. Morrison, also known as Mr. Drake, has served the athletic department for more than 60 years.
"I was very honored to be parade marshal," said Morrison, 90, Drake athletic historian. "I got to ride in a horse and carriage and it was a beautiful day."
Bags of candy were tossed out to onlookers as floats and cars drove by.
"We had about 65 entries and great participation from the community," said Relays Co-Chair Sara Ballou. "Next year we plan to push for more student participation."
View a photo gallery of parade online.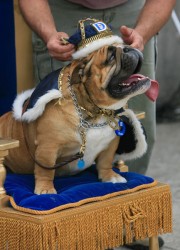 Buddy proudly sits on his throne after being crowned as the Beautiful Bulldog Contest winner.
Buddy, this year's Beautiful Bulldog, basked in spotlight of contest
Buddy, an energetic 3-year-old bulldog owned by George and Cindy DuBois of Ankeny, Iowa, strut his stuff to accept the crown at the 29th annual Drake Relays Beautiful Bulldog Contest. He was the mascot for the 99th running of the Drake Relays April 25-27.
At his first appearance at the contest, the 65-pound pooch defeated 49 other bulldogs from six states during the beauty pageant in Nollen Plaza in downtown Des Moines.
"We're pretty proud," said George, looking down at his panting pooch. "It was swell, wasn't it? Way to go Bud!"
Buddy showed off his shiny red coat, while other bulldogs were dressed in costumes including princess, biker, rock-star and Drake sports attire.
"We didn't dress him up because we wanted his pretty red coat to show. He's gorgeous," said Cindy. "He really likes to be around people. He's a people dog."
And that's exactly why Buddy won over the panel of four judges made up of community members and Drake representatives.
Throughout Relays week, Buddy appeared at various events and presided over the Relays. He also will be featured in next year's Drake Relays Parade.
View a photo gallery of the contestants online.