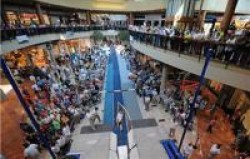 Derek Miles
They came. They saw. They conquered.
That was the consensus among the participating athletes as well as a crowd of more than 2,000 shoppers at the Jordan Creek Town Center Wednesday night who were treated to a unique two-hour performance by the top pole vaulters in the United States.
"This event was better than I ever envisioned," said Drake Relays director Brian Brown. "I look forward to doing it again next year when the Drake Relays celebrates its 100th birthday."
Derek Miles, who finished seventh in the 2004 Olympics, won the event, clearing 18 feet 8.75 inches on his second attempt.
"I've jumped in a lot of different venues, a lot of street meets and things like that, but I've never done it in a mall," said Miles. "So it is kind of a different experience, even at my age. It was great.
"When we first got here it was the middle of the afternoon and the next time I looked
up, there were just tons of people here and they just had a level of enthusiasm that just didn't quit. For two hours that is pretty impressive."
Mark Hollis was second after clearing the same height on his third attempt. It marked a personal best for Hollis who also reached the Olympic Trials qualifying standard.
"I just found out about this last week and I was really interested in trying to get out here and get another chance to jump with all these guys. I was trying and trying to get a hold of them [Drake Officials] and trying to get into this and finally, Sunday night, I got an e-mail that said we'd love to have you, come on over."
"It really helped us get through the competition and jump these bars," added Miles. "Obviously, Mark [Hollis] jumping eight inches higher than he has ever jumped, that energy comes from the crowd. It was just an amazing event."
American indoor and outdoor record holder Jeff Hartwig placed third at 18-5. Hartwig helped Brown organize the event.
"I knew coming to Des Moines would probably be the best sort of venue to try this out in the United States just because of how the fans have always been at the Drake Relays," Hartwig said.
Jacob Pauli was fourth (18-5), Jeremy Scott fifth (18-0.5) and Darren Neidermeyer sixth (17-0.75).
Miles said he will try to ride the momentum of his victory when he opens the outdoor campaign at Drake Stadium Saturday.
"It is the first meet going into the outdoor, so to come in here and jump 18-8 and take decent shots at 19 in your first meet getting ready for the outdoor season, I think that is what is fueling me at the moment, a fairly decent performance this early in the season, Miles said.