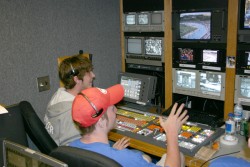 Last year's Relays telecast crew manages the production of the live broadcast and streaming video.
Drake celebrates 20 years of student-produced Relays
telecast

By Michelle Thilges
Although the Drake Relays broadcast isn't an official class
offered at Drake, students are using the opportunity to put their knowledge and
skills learned in the classroom to use. And that's exactly what Drake
Broadcasting System has been doing for 20 years now with this year's broadcast
marking the 20th anniversary of the student-run production.
"You have your basic classes and get a great education
from those, but this experience is real," said senior Kayla Jacobsma,
executive producer of this year's Relays broadcast. "This is a sole
student production. You can mess up, but you still have consequences if you
do."
Jacobsma along with a staff of approximately 50 students are
involved with planning, and producing one of the longest running and biggest
student run broadcasts in the country. Watch the Relays live telecast on the
athletics Web site and read more about the student-run production online.
Todd Evans, faculty adviser for DBS, said the amount of work
that goes into making the production happen is more than can be asked for in a
class.
"Every student has their hands in this," Evans
said. "The students take ownership in their own production. They take the
pride in it for the thousands of hours it takes to plan."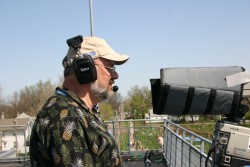 Professor David Wright shoots video at last year's Drake Relays.
Not only students who are in the radio/television major, but also students involved with DBS and more, participate in the broadcast. Evans said graduates of Drake, members of the local news media and even prospective students have had their chance to get behind a camera.
"We have alums come, sit down and direct for an hour because they remember how cool it was when they did it," Evans said.
The production has grown over the years. When the group started 20 years ago, there were only three cameras. Now there are seven. Overall though, Evans said that creating a good sports cast hasn't changed much over the years. "You still have to tell the story visually," he added, "and talk about the story in the most effective way."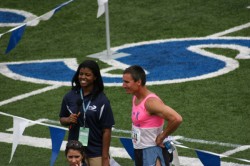 Telecast reporter Deidre Howard interviews an athlete at last year's Relays.
Evans said once a student gets involved, he or she will more
than likely come back year after year. This is true for both Jacobsma and for
Corinne Lemmage, both senior radio/television majors, who have been working on
the broadcast all four years.
For both the 2007 and 2008 Relays, Lemmage has been the
technical producer. She manages making DVDs to send advertisers, the designing
and editing of video, production of commercials and setting up the web stream.
"It is an exciting and
thrilling event," Lemmage said. "That feeling after Relays weekend is
over, knowing how much of your heart and soul went into that production and
being able to see it in the final product, is worth all the hard work and long
hours over the course of the year."
For the viewers as well as the staff, the telecast of Relays
is an exciting time.
"I enjoy being involved with a production on such a
large scale. What I love about working on Relays is that I am working with
a group of people I trust and we learn a lot from each other every step of the
way," Lemmage said. "They challenge me and hopefully I challenge
them back. We are always striving to make a bigger and better final
product for the viewers to see."