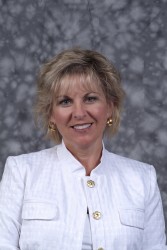 Sally Beisser
Beisser to participate in international Oxford Round Table


Sally Beisser, associate professor of education, has been
selected to participate in this summer's Oxford Round Table in Oxford,
England. She will be one of 35 education professors from around the world who
gather July 20-25 to discuss "Balancing National and State Curricula:
Trends and Choices."

Beisser was invited to join
the Oxford Round Table because of her scholarly publications and presentations,
her classes and professional involvement, as well as her interest in
international education issues.
As part of the round table at the historic University of
Oxford, Beisser will present a paper on the "Unintended Consequences of No
Child Left Behind (NCLB) Mandates on Gifted Students."
Five graduate students in her Curriculum and Pedagogy class
are helping her conduct research for the paper, which will be considered for
publication in Forum on Public Policy, the journal of the Oxford Round Table.
The paper will cover the history of gifted education
programs in the United States, funding trends for NCLB and gifted programs,
along with the impact of this legislation on the nation's best and brightest
students.
Students relish research challenge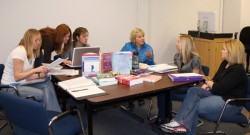 Discussing their research are (from left) Carissa Meyn, Kate Ryan, Jenn Hoffman, Sally Beisser, Liz Sapp and Stacey Light.
"When Dr. Beisser first suggested that we do some of the research with her, we were flabbergasted by the honor," said Kate Ryan. "Now we're really getting into the nitty gritty of funding for gifted and talented students in every state and U.S. territory. It's fun to do this kind of research."
"Since President Bush signed No Child Left Behind into law in 2002," Beisser said, "policy makers have worried about students at the lower end of the achievement spectrum, those who are struggling to meet standards, particularly in reading and mathematics.
As a result, resources have been focused primarily on bringing these students up to grade level and funding has diminished appreciably for programs to help gifted and talented students."
For example, Beisser noted that NCLB has resulted in $16 million cut from Illinois' gifted and talented programs and a $5 million reduction in Michigan's programs the year after the legislation became law. Federal spending for gifted education also has declined, dropping from $11.3 million in 2006 to $7.6 million in 2007. For more information, read an article titled "Are We Failing Our Geniuses?"
Many myths surround gifted education
"There are many myths about gifted education," Beisser said. "One of the biggest myths is that gifted students will do fine on their own just because they're smart. On the contrary, they may experience boredom, poor study skills, social-emotional discontent, not to mention lack of academic challenge and gains. All students who have unmet needs are at risk."
"I'm gaining a whole different perspective on gifted education because of this research project," said Liz Sapp. "We need to do more than assign gifted students extra work. They need to be challenged in appropriate ways."
"We're learning a lot that we'll be able to apply as teachers in the classroom," added Jenn Hoffman. "It takes extra time and resources for teachers to differentiate instruction to meet the needs of students at various levels."
The graduate students will share the results of their research with their undergraduate classmates in Beisser's Curriculum and Pedagogy class on April 30. The presentation will include a puppet show featuring an adaptation of "Harrison Bergeron," a short story in which Kurt Vonnegut presents a scary view of a future society, where everyone is equal and nobody is smarter than anybody else.