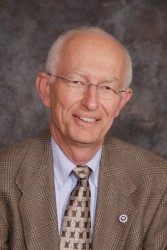 Richard Morrow
CONTACT: Tory Olson, 515-271-1834, tory.olson@drake.edu
The Lawrence C. and Delores M. Weaver Medal of Honor
— the highest award presented by Drake University's College of Pharmacy and
Health Sciences — will be awarded to Richard Morrow, the Ellis and Nelle
Levitt distinguished professor of pharmacology.
"Richard Morrow, through 36 years of dedicated
service, exemplifies what it means to advance the mission of the college,"
said Raylene Rospond, dean of the college. "There is no one that I
consider more deserving of this honor."
The award will be presented following the Weaver
lecture at 1 p.m., Wednesday, April 23, in Sheslow Auditorium in Old Main, 2507
University Ave. A reception will follow from 4-6 p.m.
at the Galleries at Hoyt Sherman Place, 1501 Woodland Ave.
Morrow earned his bachelor's in
pharmacy from the University of Cincinnati in 1968, his Ph.D. in pharmacology
from Indiana University Medical Center in 1972 and his MBA from Drake
University in 1983. Having taught more than 20 different courses during his
tenure at Drake, Morrow was twice recognized by the student body as College
Teacher of the Year.
As a key member of the CPHS
faculty since 1972, Morrow also has worked in
a variety of administrative roles, including chair of the division of pharmacy
sciences and as assistant, interim and associate deans of the CPHS. As an
administrator, Morrow developed and implemented the combined pharmacy and law
program and served as liaison with the Iowa Methodist School of Nursing. Morrow
chaired and served on a variety of committees and task forces on the University
level. He also has been a faculty adviser to a number of student groups and
honor societies.
His professional involvement
includes membership in the American Heart Association, American Physiological
Society, the Mercy Medical Center Institutional Review Board and the American
Association of Colleges of Pharmacy. He is a longtime member of the Iowa Pharmacy
Association, currently serving as honorary president.
The Weaver Medal of Honor is made
possible through the generous gifts of the Weaver family. Lawrence Weaver, a
1949 pharmacy alumnus, is dean emeritus of the University of Minnesota College
of Pharmacy and a past vice president of professional relations with the
Pharmaceutical Manufactures Association. He has received numerous awards
including the American Pharmaceutical Association Remington Honor Medal Award,
the American Association of College of Pharmacy Distinguished Service Award and
the Drake University Distinguished Service Award.
Delores Weaver has been an active
health care volunteer in her community, serving organizations such as the
University of Minnesota Hospital, Girl Scouts and her church. Globally, she has
taught English in Malaysia.
For more information about the
Weaver Medal of Honor lecture and reception, please contact Marilea Chase at
marilea.chase@drake.edu.