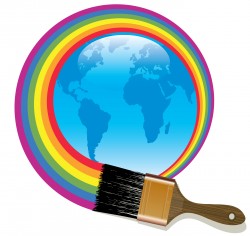 CONTACT: Tory Olson,
515-271-1834, tory.olson@drake.edu
DRAKE RAINBOW UNION CELEBRATES ANNUAL PRIDE WEEK
Rainbow Union at Drake University will celebrate its annual
Pride week from April 7-11.The theme for this year is "Puttin' It Out
There-Living an Out Life." All events are free and open to the public
unless otherwise noted.
The week's events are:
Friday, April 11
Semi-Annual Drag Ball, 9 p.m. Morehouse Ballroom, Morehouse
Hall
The ball will feature professional drag performers including
Selena Sakowitz, Synitha Sanchez, Michelle Knight, Cierra Cruise and Bianca Des
Moines, as well as student performers. Cost is $3. Participants are invited to
dress in drag for a discount off of the ticket price. All proceeds from the
show (including tip money) will go to the AIDS Project of Central Iowa.
Rainbow Union is an organization by and for gay, lesbian,
bisexual, transgender, queer/questioning, intersex students and their straight
allies at Drake University. The annual Pride Week is dedicated to the
organization's purpose of resisting homophobia on campus through example and
education and striving to prevent heterosexism in our lives and on our campus.
For more information, contact Christen Bain at rainbowunion@drake.edu.