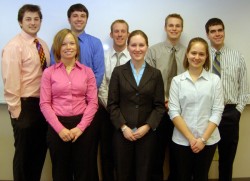 Back Row: Charlie Hartig, Derek Lomas, Tim Sullivan, Alex Keiger, Jedidiah Barlett. Front Row: Sara McEnenay, Kathryn McDonald, Elizabeth Marks.
Drake pharmacy students compete in health care entrepreneur
competition

Drake students recently participated in Drake's Next Top
Entrepreneur Competition, a challenge allowing them the opportunity to showcase
their creativity skills and health-care related innovations. The event was part
of Entrepreneurship Week USA and was hosted by Drake's DELTA Rx Institute.
The competition was split into three rounds with top performers advancing to
the next round. Three judges representing the pharmacy, business and health
care sectors judged each round in the following format:
First round: a three-minute presentation of a health
care idea,

Second round: a three-minute presentation of an
impromptu solution to a health care problem, and the


Third round: a 15-minute presentation of a business
plan for a new health care endeavor.

"This annual event provides an opportunity for
students to showcase their creativity, innovation, problem-solving and
presentation skills as they share their ideas to solve health care-related
problems," said Renae Chesnut, associate dean for academic and student
affairs and a member of the DELTA Rx Institute team.
"This competition may spur the development of future
products and/or services that can benefit patients, health care providers and
society at large," she added.
The top three winning teams won cash prizes of $1,500,
$1,000 and $500, respectively. The team of Charles Hartig (P3), Derek Lomas
(P3) and Kejal Patel (P3) won first place.
Their idea was a company that would break through the
language and cultural barriers of pharmacy using Internet video conferencing
and telephone translation services.
"The business model is
targeting millions, especially a growing number of people who cannot
proficiently speak English," Hartig said. "Pharmacists have a
difficult time counseling this group on their medications and explaining how to
take the medicine and adverse events associated with the medication."
The second place team of Alex Kieger, a senior
biochemistry and molecular biology major, and Tim Sullivan (P2), presented
Long-Term Care (LTC).
The LTC plan would address the problem of unnecessary
hospitalization of nursing home residents. LTC would save people in nursing
homes money by bringing in technology and equipment to perform procedures in
the nursing home rather than a hospital.
Elizabeth Kuhr (P4) and Sara McEnenay (P4) took third
place with a continuous wellness program for employers and insurance companies.
The program would extend beyond the traditional voluntary
screenings. If employees met their health goals set by the insurance company,
the employee would receive a discount on his or her health insurance.
Conversely, if the employee did not meet the goals, he or she could enroll in a
program at no cost to help meet those goals.
The competition was supported by funding from Wal-Mart and
the National Collegiate Innovators and Inventors Association.