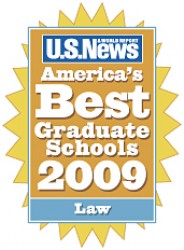 Rankings show improvements in bar passage rate,
student/faculty ratio
Drake Law School improved its bar exam passage rate in Iowa and maintained a
third-tier ranking among law schools in the new edition of U.S. News &
World Report's "America's Best Graduate Schools."
Drake's bar passage rate increased to 90.6 percent, exceeding by nearly 4
percentage points Iowa's overall rate of 87 percent.
In the magazine's rankings of specialized programs, Drake Law School ranked
25th in clinical training and 39th in legal writing.
The new rankings show continued strong demand for Drake Law
School graduates with 94.9 percent of graduates employed nine months after
graduation.
"We are delighted that the U.S. News & World Report data reflect
improvement in an already excellent Law School at Drake University," said
University President David Maxwell. "The legal community in Iowa is well
aware of the vitality and distinctiveness of the Law School, and we are
committed to doing everything we can to continue to enhance the Law School's
quality, stature and impact."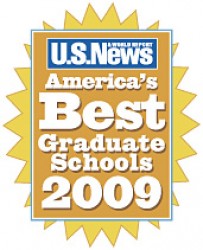 College of Pharmacy ties for
fifth among private institutions in new rankings
Drake University's College of
Pharmacy and Health Sciences improved its score to 2.7 and tied for fifth place
among private institutions in the 2009 edition of U.S. News & World
Report's "America's Best Graduate Schools."
The magazine's Top Pharmacy
Program rankings have been updated for the first time since 2005, when Drake
had a score of 2.6.
In the overall rankings, which are
dominated by large, public research institutions, Drake ranks 51st. U.S. News
ranked 66 pharmacy programs and listed 39 other programs that were not
ranked.
"Drake is committed to having
an excellent professional program ranked highly among our peer institutions
across the country," said Raylene Rospond, dean of the college. "The
improved score demonstrates our commitment to continuous quality
improvement."
For additional information about
the rankings, visit the Web site.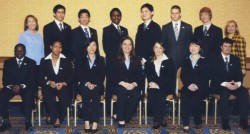 Faculty advisers Deb Bishop and Dorothy Pisarski pose with the Drake team at the regional tourney.
Drake SIFE team win honors in regional tournament
The Drake University Students in Free Enterprise (SIFE) team
will advance to the SIFE USA National Exposition in Chicago on May 13-15.
The team earned the opportunity to compete at the national
level by being selected as one of 20 national finalists in the SIFE USA
Regional Competition in Minneapolis on March 26. The event was one of 16
regional competitions being held across the United States this spring.
In specific categories, the team was selected as national
finalists in the SIFE USA Clorox Market Economics Competition and the SIFE GE
Consumer Products Program Sustainability Competition.
After presenting a report of their year-long community
outreach projects, the team was judged on their overall score by a panel of
business leaders. The Drake team won second runner-up overall in the regional
competition that drew 26 teams.
"For a team that began the year with only four students
to accomplishing so much during the year and being named amongst the nation's
best is truly a remarkable achievement," said Cliffton Murove, president
of Drake SIFE, which has grown to 32 students.
During this academic year, the Drake SIFE team organized 12
projects in the Des Moines community including collecting school supplies for
students in Uganda and teaching success skills to the Girls Club at Summit
Middle School in Johnston. Students taught topics including, time management,
the importance of networking, asking questions and dealing with rejection.
Read more about Drake SIFE online. Additional information
about SIFE is available on the Web site.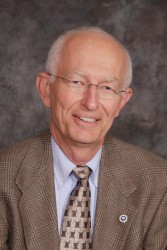 Richard Morrow
Drake to honor Richard Morrow with Weaver medal
The Lawrence C. and Delores M. Weaver Medal of Honor —
the highest award presented by Drake University's College of Pharmacy and
Health Sciences — will be awarded to Richard Morrow, the Ellis and Nelle
Levitt distinguished professor of pharmacology.
"Richard Morrow, through 36 years of dedicated
service, exemplifies what it means to advance the mission of the
college," said Raylene Rospond, dean of the college. "There is
no one that I consider more deserving of this honor."
The award will be presented following the Weaver lecture
at 1 p.m., Wednesday, April 23, in Sheslow Auditorium in Old Main. A reception will follow from 4-6 p.m. at the Galleries at
Hoyt Sherman Place, 1501 Woodland Ave.
Morrow earned his bachelor's in
pharmacy from the University of Cincinnati in 1968, his Ph.D. in pharmacology
from Indiana University Medical Center in 1972 and his MBA from Drake
University in 1983. Having taught more than 20 different courses during his
tenure at Drake, Morrow was twice recognized by the student body as College
Teacher of the Year.
As a key member of the CPHS
faculty since 1972, Morrow also has worked in
a variety of administrative roles, including chair of the division of pharmacy
sciences and as assistant, interim and associate deans of the CPHS. As an
administrator, Morrow developed and implemented the combined pharmacy and law
program and served as liaison with the Iowa Methodist School of Nursing. Morrow
chaired and served on a variety of committees and task forces on the University
level. He also has been a faculty adviser to a number of student groups and
honor societies.
His professional involvement
includes membership in the American Heart Association, American Physiological
Society, the Mercy Medical Center Institutional Review Board and the American
Association of Colleges of Pharmacy. He is a longtime member of the Iowa
Pharmacy Association, currently serving as honorary president.
The Weaver Medal of Honor is made
possible through the generous gifts of the Weaver family. Lawrence Weaver,
PH'49, is dean emeritus of the University of Minnesota College of Pharmacy and
a past vice president of professional relations with the Pharmaceutical
Manufactures Association. He has received numerous awards including the
American Pharmaceutical Association Remington Honor Medal Award, the American
Association of College of Pharmacy Distinguished Service Award and the Drake
University Distinguished Service Award.
Delores Weaver has been an active
health care volunteer in her community, serving organizations such as the
University of Minnesota Hospital, Girl Scouts and her church. Globally, she has
taught English in Malaysia.
For more information about the
Weaver Medal of Honor lecture and reception, please contact Marilea Chase at
marilea.chase@drake.edu.
StormReady: Drake is prepared
to safeguard people, property from severe weather
Photo: Storm ready Logo
With tornado season just around
the corner, Drake University has received StormReady® (link to http://www.stormready.noaa.gov) certification from the National Oceanic and Atmospheric
Administration's National Weather Service.
StormReady® certification
signifies that Drake is well prepared to safeguard its people and property from
severe weather. Drake is the first college or university in Des Moines — and
one of 23 in the United States — to be recognized with the StormReady®
designation.
Drake was officially certified as
StormReady® on Nov. 19, 2007, making it the third university in Iowa to join
the program. The University of Dubuque and Iowa State University also have been
certified and Grinnell College recently received its certification.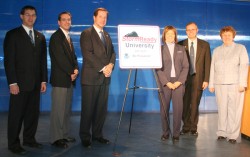 From left to right: Polk County Emergency Management Coordinator A.J. Mumm, Brad Small, Drake President David Maxwell, Brenda Brock, Jeff Johnson and Drake Safety Specialist Kris Rossmiller.
Weather officials praise Drake
Officials from NOAA's National Weather Service praised Drake for completing a set of rigorous criteria necessary to earn the distinction of being StormReady®. Drak'es StormReady® recognition will be in effect until 2010 when the University will go through a renewal process.
"StormReady encourages communities to take a new, proactive approach to improving local hazardous weather operations and public awareness," said Jeff Johnson, warning coordination meteorologist at the National Weather Service Forecast Office in Des Moines.
"Safety is an important feature of campus life at Drake," said University President David Maxwell. "We can't prevent storms, but we can greatly reduce the chances that people might get hurt in storms. This recognition by the National Weather Service shows that we have taken the steps needed to do that."
As part of the certification process, Drake distributed 70 weather alert radios across campus. A $2,000 Community Betterment Grant from the Polk County Board of Supervisors funded 65 of the radios. In addition, all Campus Security officers received training as storm spotters.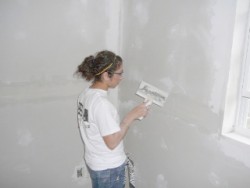 Tisleen Singh working on a house in Biloxi, Miss.
Drake students change lives with alternative spring break
By Hayley Larsen
While many college students
choose to spend spring break basking on a sunny beach, two groups of Drake
students volunteered to serve communities in Bremerton, Wash. and Biloxi, Miss.
this March.
Kristin Holsker, a first-year
student from Belvidere, Ill., and nine other Drake students, worked with
Habitat for Humanity to build home foundations in Bremerton.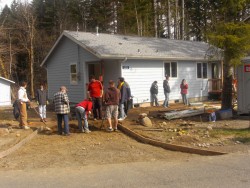 Drake students work with Habit for Humanity to build a home.
The students worked full days at an 18-home development of duplexes and triplexes, creating wood frames for foundation, digging trenches and pouring foundation.

"We had great Habitat contractors who taught us a lot," said Holsker. "The experience was one that will never be forgotten."
In another part of the country, a group of 13 Drake students joined Hurricane Katrina recovery efforts by working in the community of Biloxi through Habitat for Humanity. Students rebuilt residential homes and updated county maps.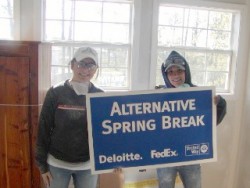 Rachel Manuel and Tisleen Singh work in Biloxi, Miss.
The Drake group worked in the Biloxi community among 74 other students. Students were divided into work teams with different projects.

Adam Hendricks, a junior from Moline, Ill., helped his group design and build a 45-foot-long handicap ramp for a resident's home. "Completing that," he said, "and seeing the gentleman use it was definitely the biggest accomplishment of the week,"
Another group of Drake students in Biloxi worked on county maps. The students surveyed the residential ground and compared it to old county maps. They documented the changes in the land and whether each lot was vacant, inhabitable or if a project was being built on the ground devastated by Katrina.
During their stay, students got another view of the hurricane's impact when they visited with survivors who either stayed during the hurricane or came back to rebuild their lives.
"We met a man who had clung to an oak tree for eight hours during the hurricane, and a woman who said it took her nine hours to drive to her son's house, a trip which normally takes an hour and a half," said Eric Gudmundson, a first-year student from Wheaton, Ill.
Students share a general feeling of surprise that they had more fun than expected while working for volunteer efforts over their spring break.
"Participating in an alternative spring break allowed me to have a great time, get a little sun, have a rewarding outcome and also avoid a large amount of guilt for not studying," said Nick Barnard, a junior from Urbandale, Iowa. "The trip allowed me to meet awesome people and make a memorable experience."
Drake students also drew media coverage, including an article and student blog in the Des Moines Register, as well as a story on MTV's think.mtv.com Web site.
To access student blogs and for more information on the trip, visit the Web site.