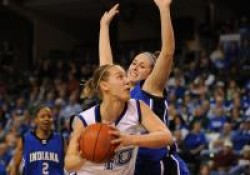 Jill Martin evades an Illinois defender.
Women's basketball team enjoys sensational season
A remarkable season for the Drake women's basketball team came to a close in the second round of the Women's National Invitation Tournament on March 24. That's when Lacey Simpson connected on a pair of free throws with four seconds remaining to propel the University of Illinois to a 48-44 victory over the Bulldogs.
Drake set the stage for a dramatic ending as senior Lindsay Whorton brought Drake to within one point of a tie on a jumper in the lane with 43 seconds remaining.
The Bulldogs denied the Fighting Illini on the ensuing possession but the rebound on Lori Bjork's three-pointer with 27 seconds remaining went off a Drake defender and kept the ball in the hands of Illinois.
Having been whistled for only one foul up to that point in the second half, the Bulldogs were forced to commit six fouls just to send Illinois to the line.
The strategy almost worked as Bjork made her first free throw with six ticks left before missing the second. The loose-ball rebound fell into the hands of Simpson who secured the win with her heroics at the line.
"I'm really proud of the way we defended tonight as we did an excellent job of executing our game plan," Drake Head Coach Amy Stephens said. "We knew how hard it would to score offensively but we still put ourselves in position to win the ballgame."
The Bulldogs concluded their campaign at 23-11 following the setback, while Illinois moved on to a third-round date with Marquette.


Drake defeats Green Bay in first WNIT game
In the first round of the Women's NIT, Drake erased a nine-point second-half deficit en route to a 65-56 victory over Green Bay on March 22.
Drake sealed its first postseason victory since downing Baylor, 76-72, on March 17, 2002, in the NCAA Tournament, with a pair of made free throws from Whorton, Jordann Plummer and one off the hands of sophomore Monique Jones.
The Bulldogs win regular season MVC title
The Bulldogs won their first regular season Missouri Valley Conference title since 2001. In addition, Whorton and Jill Martin, both seniors, were tabbed as 2008 All-MVC first team selections.
Martin became the fourth three-time recipient of first team honors in Drake history joining Wanda Ford (1983, 84, 85), Jan Jensen (1989, 90, 91) and Carla Bennett (2000, 01, 02, 03). Whorton made the top squad for the first time after pulling in honorable mention laurels a year ago.


MVC Tournament proves challenging
Drake faced Evansville in the first game of the State Farm Missouri Valley Conference Tournament, where Martin scored a game-high 20 points and pulled down 13 rebounds for her league-leading 14th double-double as the Bulldogs won 46-41.
The victory enabled the Bulldogs to advance to the MVC championship game against Illinois State. It was the third time in the last five years that Drake competed for the MVC championship.
Drake was outscored 36-27 over the final 20 minutes of that game as Illinois State erased a one-point halftime deficit en route to a 70-62 victory to thwart the Bulldogs' attempt at an 11th NCAA Tournament appearance.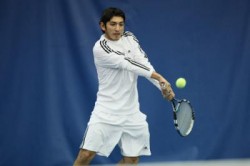 Mauricio Ballivian
Bulldogs chalk up No. 39 extending win streak in 7-0 victory over Bradley

PEORIA, ILL. – The Bulldogs chalked up their 39th straight regular season men's tennis triumph on Sunday, April 6, registering their third consecutive Missouri Valley Conference 7-0 victory as Drake downed Bradley.
The Bulldogs extended their start to the campaign to 19-0, while pushing their MVC record to 3-0. The loss dropped the Braves to 2-13 overall, including 0-3 in league play.
"It was nice to get another victory in league play," Bulldog Head Coach Chase Hodges said. "Our singles play was dominating and we look forward to next weekend hosting Southern Illinois and Indiana State."
Clinching the doubles point for the second straight contest was the tandem of senior Dalibor Pavic (Adelaide, Australia) and junior Maor Zirkin (KIbutz Hazor, Israel). The duo collected an 8-3 decision over Milos Romic and Evgeny Samoylov at the top doubles slot for their seventh consecutive victory.
In singles, Pavic added a 6-0, 6-1 decision versus Samoylov at the top slot to post his 198th career win at Drake. He is now six victories shy of equaling Robert Novotny (1993-97) atop the career Bulldog win list.
Freshman Mauricio Ballivian (Santa Cruz, Bolivia) extended the margin to 3-0 on the strength of his 6-0, 6-1 triumph at No. 4 against Michel Macara-chvili.
Junior Ivan Mendoza (Wellington, New Zealand) officially chalked up the victory for Drake bettering Richard Robertson at the sixth spot, 6-2, 6-1.
Drake also garnered victories at the fifth, and third positions, respectively from sophomore Bokang Setshogo (Gaborone, Botswana) and junior Ricardo Lau (Tegucigalpa, Honduras).
The Bulldogs will seek to extend their 44-match home-court winning streak on Saturday, April 12, as Drake hosts Southern Illinois at the Drake Tennis Center starting at noon.
No. 51 Drake def. Bradley, 7-0
Peoria, Ill. – April 6, 2008
Records: Drake (19-0, 3-0 MVC), Bradley (2-13, 0-3 MVC)
Singles:
No. 1 No. 68 Dalibor Pavic (DU) def. Evgeny Samoylov (BU), 6-0, 6-1
No. 2 Maor Zirkin (DU) def. Milos Romic (BU), 6-0, 6-4
No. 3 Ricardo Lau (DU) def. Vuk Bolic (BU), 6-4, 6-2
No. 4 Mauricio Ballivian (DU) def. Michel Macara-chvili (BU), 6-0, 6-1
No. 5 Bokang Setshogo (DU) def. Wilder Sampson (BU), 6-3, 6-3
No. 6 Ivan Mendoza (DU) def. Richard Robertson (BU), 6-2, 6-1
Doubles:
No. 1 Pavic/Zirkin (DU) def. Romic/Samoylov (BU), 8-3

No. 2 Ballivian/Mendoza (DU) def. Robertson/Macara-chvili (BU), 8-1

No. 3 Sampson/Bolic (BU) def. Setshogo/Marsiglia (DU), 8-6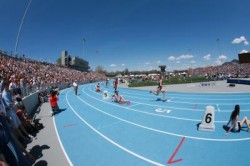 Drake Relays tickets on sale
Tickets are now on sale for the 99th running of the Drake Relays April 24-26.
All seats for Saturday's session are $35. The Drake Relays will once again feature a Thursday distance carnival on April 24. All seats are general admission at $5 each for the Thursday program.
Reserved seats for Friday's afternoon session are $30 for adults and $15 for youth (18 years of age and younger). Tickets for the Friday night session are $20 for adults and $10 for youth.
Fans can also purchase three types of reserved ticket packages. The All-Session Package, which includes the Thursday, Friday Day, Friday Night and Saturday session, is on sale for $80.
The All-American Package, which includes the Friday Night and Saturday session, is available for $50. The Gold Package, which includes the Friday day and Saturday session, sells for $60.
General admission tickets for the Friday night session are $10 for adults, who purchase a Friday afternoon session, and $5 for youth, who purchase a Friday afternoon session.
Tickets can also be ordered by either calling (515) 271-DOGS or on the Web site.
More Relays-related fun
Central Iowa residents and visitors can enjoy these additional free Relays-related events:
Monday, April 21,

29th Annual Beautiful Bulldog Contest, Nollen Plaza, downtown Des Moines, 11 a.m.-1 p.m. Fifty bulldogs will vie for the title in this popular competition and the honor of serving as this year's Relays mascot.
Drake Relays Invitational Pole Vault, Jordan Creek Town Center, Center Court, West Des Moines, 6-8 p.m. Sponsors of this competitive event are Mercy Medical Center and Scheel's.
Drake Relays Invitational High Jump, Nollen Plaza, downtown Des Moines, 11:30 a.m.-1 p.m. (rain location: Capital Square, downtown Des Moines). Sponsors are Wellmark Blue Cross & Blue Shield and Mondo's.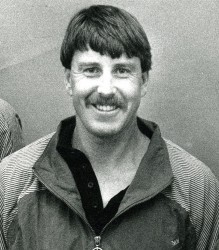 Roger B. Knapp during his coaching days at Drake
Former tennis coach dies at age 48
Roger B. Knapp, who was Drake's men's tennis coach from 1989 to 1993, died Sunday, March 30, in Sarasota, Fla., as a result of complications from an aortic aneurism. He was 48.
Knapp, who grew up in Des Moines, is the son of Drake University Trustee Emeritus William C. Knapp and Irene Knapp. He had resided in Florida for the last 13 years.
At Drake, Knapp guided the Bulldogs to two consecutive Missouri Valley Conference championships in 1992 and 1993.
He transformed a program that owned a 3-20 record when he joined Drake in 1989, into a perennial power in the Missouri Valley Conference with nationally ranked players.
He posted a 72-46 coaching record at Drake with the 1992-93 Bulldog team enjoying a 23-7 dual record. That record, at its time, was the most successful season in the history of the program.
Knapp led Drake to the 1992 NCAA team championships for the first time in school history. He was named the 1992 Missouri Valley Conference and Region V Coach of the Year.
Knapp remembered for his enthusiasm and high expectations
Longtime Drake staff member Dolph Pulliam, FA'69, remembers Knapp for his "tremendous sense of enthusiasm and high expectations.
"He was able to get his players to buy into that and to put in lots of hard work," added Pulliam, Drake's director of community outreach and development. "I don't think there was anyone on his team who wouldn't outwork his opponent. I used to travel with the team and hang around with the players. Those kids were really determined and were great representatives of this University.
"Roger really built up the team and the program. His 1991-92 team went to the NCAA Tournament for the first time in Drake history. That was a marvelous group of young men, many of whom I still keep in touch with."
Pulliam said he's thankful he got to see Knapp when they both attended the March 21 Drake men's basketball game against Western Kentucky in the first round of the NCAA Tournament in Tampa, Fla.
"I'm so glad we had a chance to say 'Hi!' and give each other a big hug at that game, because we've been such good friends," Pulliam added. "We talked again just last Tuesday and he made me promise I would come down to Florida to play golf with him this summer."
Knapp's tennis career began at an early age
Knapp was a tennis standout from a young age. He was the first tennis player to win the Iowa singles prep tennis title as a freshman (Hoover High School). He took the title again as a sophomore, and transferred to La Jolla High School in California for his junior and senior years.
He won the 1977 Southern California boys-18 championship and was ranked 14th nationally among junior boys. His talent won him a tennis scholarship at the University of Southern California, where he twice earned All-American doubles honors. In 1980 he won the USTA Amateur Indoor title.
After graduating from college in 1982, he played on the professional tennis tour for several years and ranked in the top 100 players in the world. Before moving to Drake, he was assistant coach at USC from 1986-1989, helping guide the Trojans to a 74-19 record including the 1987 Pac-10 title.
Knapp served as a director of Knapp Properties until his death. He was an investor and owner in many of the Knapp family real estate holdings in central Iowa.
He has two daughters: Sable, 18, lives in Des Moines, and Montana, 16, attends school in California. In addition, he is survived by his life partner, Ms. Kem Lindsay, and his sister, Ginny Haviland, who lives in West Des Moines.
"The family is saddened by the sudden loss of their son, brother, uncle, cousin and friends," said Bill Knapp II, chairman of Knapp Properties and Roger Knapp's cousin. "He was a loving man who always had a smile on his face and was willing to offer a helping hand. He was admired for his quick wit and fun-loving spirit. We will all miss him, and we thank all of those who have expressed their sympathy and prayers."
Funeral services were held April 5 at Westminster Presbyterian Church in Des Moines.
Memorial contributions can be made to the Drake University tennis program or Westminster Presbyterian Church. More information about different ways to make a gift to Drake is available online.