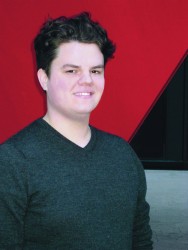 Tanner Stransky
Entertainment Weekly writer, alum shares career lessons
in new book
By Charley Magrew
As a writer for Entertainment Weekly, Tanner Stransky, JO'05
is allowed to pass off his "obsessive" television watching as
research for his work. It was while watching popular shows, including "The
Office" and "Ugly Betty," that he was inspired to write a book
about the portrayal of young professionals on television, incorporating 25
career lessons to follow.
"The inspiration for the book just comes from the fact
that 'Ugly Betty' is actually a really great example of a young professional
getting her footing in the workplace," Stransky said.
"So naturally, by taking a closer look at what she's
done right and wrong, you're able to teach young people quite a lot that they
can put to good use in their own jobs," he added.
In his new book, "Find Your Inner Ugly Betty – 25
Career Lessons from TV Shows for Young Professionals," Stransky
incorporates experiences from his professional career and lessons learned via young
professionals on television.
"When I was figuring out what I wanted to cover in the
book, I literally sat down with the first season of 'Ugly Betty' and wrote down
all the different experiences she'd had in her workplace," Stransky said.
"I thought about the three post-collegiate jobs I've had and considered
how advice about Betty's situations could have been most helpful to me when I
was starting out."
One of his former magazine journalism professors at Drake,
Angela Renkoski, is not a bit surprised he's written such a book so early in
his career. "Even when he was here," she said, "Tanner was so
savvy about his career and he was interested in helping others realize their
dream jobs. He actually founded our Ed On Campus chapter as part of Ed2010 and always
lends a hand to aspiring journalists."
Stransky is an editorial assistant at Entertainment Weekly,
writing stories, reviews and blogs on www.EW.com.
In addition to working at Entertainment Weekly, Stransky is on staff with "Ed2010," a magazine for career building
dedicated to helping young journalists find their first job in magazine
publishing and progress professionally. His past experience includes writing
for the New York Post, Teen People and several custom
publications.
Stransky treks back to Des Moines
Stransky will return to Des Moines to appear at East Village
Books, 510 East Locust St., on Thursday, April 24, to promote his new book and
meet with Drake students.
"We're thrilled Tanner, one of our most dynamic and
fast-rising alums, is going to be here to share his expertise with our
students," Renkoski said.
At 5:30 p.m., he will be available at a meet-and-greet,
prior to an author talk at 6:30 p.m. He will share his ideas about being a
young professional in the workplace and tips from his new book. The event is
free and open to the public.
Earlier in the day, a Lunch-n-Learn session with the author
is scheduled for 12-1:30 p.m. at East Village Books. Admission is limited to
the first 40 people to RSVP, and box lunches will be available to purchase for
$6. To RSVP, e-mail meredithmagstudies@drake.edu by April 17.
The book, which Chandra Turner, executive editor of
CosmoGIRL! magazine, calls "a must-read for every recent college graduate
embarking on his or her career," is scheduled for release on May 6. The
events at East Village Books will give readers a preview of the book, as well
as the opportunity to meet and speak with the author.
For more information about the events at East Village Books,
contact Angela Renkoski, assistant professor of journalism at Drake, at angela.renkoski@drake.edu.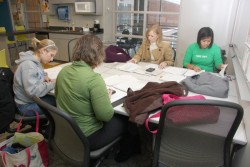 Pharmacy and chemistry students gather to study in the newly renovated resource room.
Drake alum makes resource room possible for pharmacy and
chemistry students
Thanks to a $26,000 gift
from alumnus Jay Langford, Drake students recently gained a new multi-purpose
resource room in Fitch Hall.

The Langford Resource Room offers pharmacy and health
sciences and chemistry students a new space to gather for individual and group
study.
Students benefit from more study space
"Dr. Langford's generosity
has helped greatly improve student access to study space and help from
professors and teaching assistants," said Mariah Brandt, sophomore
pharmacy student from Steedman, Mo.
"The recently renovated
resource room is a great place to host group study sessions and work on lab
reports.Students flock from class to the room after lab to
get help and work on lab reports."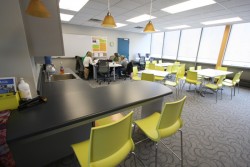 The resource room offers a kitchen space for preparing food during study sessions.
The resource room also has a kitchenette and lounge area where students can prepare food and relax.
Students in Drake's College of Pharmacy and Health Sciences and College of Arts and Sciences presented Langford with a gift for his generous support. Emily Nufer, a student from Niles, Ill. in the third year of the professional pharmacy program, thanked Langford for "being a role model for students in professional practice and service to our community."
"We appreciate the opportunity to honor Jay Langford for his outstanding support of pharmacy education and for his leadership and dedication to Drake University," said Dean Raylene Rospond.
Langford's longtime commitment to Drake
Langford, a 1944 College of Pharmacy and Health Sciences graduate, is a member of the Drake President's Circle and has been a longtime benefactor and supporter of the college and Drake University. In 2006, he was honored with the college's Alumni Achievement Award.
In 2004 he made a $100,000 gift for the renovation of the Langford Patient Care Classroom and the Langford Sterile Products Laboratory in Harvey Ingham Hall.
This project is the second of several that are part of the $100,000 gift from Langford that is being paid over a number of years. The first project, completed in 2006, was the renovation and expansion of the OSCO computer laboratory in Harvey Ingham Hall.
For 38 years, Langford owned and operated Langford Pharmacy in Sheffield, Ill., and sold the business in 1991. Prior to having his own pharmacy, Langford was a pharmacist at Carl Riggs Drugs in Indianapolis.
Put Drake on your desktop
Show your Drake pride on your home and office computers with new Drake desktop wallpapers available on the Drake alumni Web site. To download, click on the desired size (according to your computer system's screen resolution) underneath the Drake wallpaper you wish to have. Then follow these instructions to install the wallpaper image as your desktop background:
Windows/PC – right-click on the wallpaper image and select "Set as Background."
Macintosh OS X – save the wallpaper image to your desktop; then drag image into the "Current Desktop Picture" area in the Desktop Preferences pane.
More selections are available on blueView, Drake's password-protected online alumni community. More information about blueView is available online. If you need your Drake National Alumni Association membership number to access blueView, request it via the online verification form.
You also can download exciting Drake sports wallpapers on the University's athletics Web site, www.godrakebulldogs.com.
Got insurance? Drake and GradMed® can help
Drake's relationship with GradMed can help new graduates – whose medical coverage through student health insurance or their parents' policies may end – and alumni who may need temporary health insurance coverage.
For new graduates, GradMed Short Term Medical can help fill the gap between graduation and employee benefits at their first job. For alumni who need temporary health insurance coverage, GradMed can help fill the coverage gap and protect against large expenses due to an accident or unexpected illness.
Coverage can start the day after receipt of one's application. For more information, to receive a rate quote or to apply for coverage, visit the GradMed Web site, or call Drake's plan administrator at 800-922-1245.
GradMed is not available in all states. Some provisions, benefits, exclusions or limitations may vary depending on one's state of residence. Depending on state, coverage is underwritten and issued by Fidelity Security Life Insurance Company or Time Insurance Company.