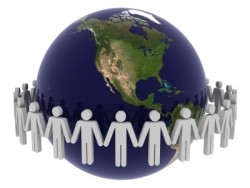 CONTACT: Tory Olson, 515-271-1834, tory.olson@drake.edu
Economic relations between the United States and China will be discussed by a panel of global-relations experts on Monday, April 14, at Drake University. The event, titled "The Eagle and The Dragon: Cooperation or Conflict in U.S.-China Economic Relations?" which is free and open to the public, will start at 7 p.m. in Sheslow Auditorium in Old Main, 2507 University Ave.

"Panelists will focus the discussion on recent tension in relations between the United States and China including trade imbalances, tainted food exports from China and intellectual property rights," said David Skidmore, director of Drake's Center for Global Citizenship.
The center is sponsoring the panel discussion, which will feature:
Nicholas R. Lardy, senior fellow at the Peterson Institute for International Economics
Prior to joining the Peterson Institute, Lardy was a senior fellow and served as interim director of the Foreign Policy Studies Program at the Brookings Institution. He has written numerous articles and books on Chinese economy, including "China: The Balance Sheet" (2006).
Minxin Pei, senior associate and director of the China Program at the Carnegie Endowment for International Peace
His research focuses on democratization in developing countries, economic reform and governance in China, and U.S.-China relations. He is the author of "From Reform to Revolution: The Demise of Communism in China and the Soviet Union" (1994) and "China's Trapped Transition: The Limits of Developmental Autocracy" (2006).
Eric Shimp, a 1993 Drake graduate and policy adviser at Alston and Bird LLP, a business consulting firm
Shimp advises corporate and public sector clients on global trade, investment and regulatory strategies. He also counsels multinational corporations and investment funds on strategic acquisitions and political risk management issues in Asia, Europe and the Middle East. He has advised sovereign governments on a range of economic policy issues, including trade and investment policy planning and the negotiation of bilateral and multilateral trade agreements.
Susan Shirk, professor of political science

and director of the University of California Institute on Global Conflict and Cooperation
Shirk first traveled to China in 1971 and has been doing research there ever since. She served as deputy assistant secretary of state in the Bureau of East Asia and Pacific Affairs, with responsibility for China, Taiwan, Hong Kong and Mongolia. She founded and continues to lead the Northeast Asia Cooperation Dialogue, an unofficial "track-two" forum for discussions of security issues among defense and foreign ministry officials and academics from the United States, Japan, China, Russia and the Koreas. Shirk is the author of "China: Fragile Superpower" (2007).
Center for Global Citizenship and its events
The discussion panel is part of the Drake Center for Global Citizenship's speaker series and the University's Engaged Citizenship Experience series. Read more about the center and its events online.
The panel also is made possible by support from Harry Bookey and his wife, Pamela Bass-Bookey, a Drake trustee.
For more information, contact David Skidmore at 515-271-3843 or david.skidmore@drake.edu.