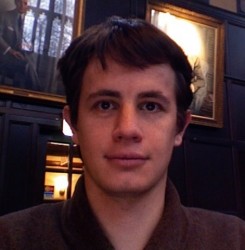 Dmitry Kondrashov
CONTACT: Maria Bohorquez, 515-271-2595, maria.bohorquez@drake.edu;
Tory Olson, 515-271-1834, tory.olson@drake.edu
Dmitry Kondrashov, lecturer at the University of Chicago, will speak at Drake University on Thursday, March 27.
His talk, titled "Dynamics of protein structures in X-ray crystallography and computational models," will start at 12:30 p.m. in room 101 of Olin Hall, 27th Street and Forest Avenue.
"Proteins spontaneously organize into 3-dimensional shapes called structures, and to perform their functions they must move," Kondrashov said. "X-ray crystallography is a tool for determining protein structures, and sometimes can provide a measure of flexibility. Computational models take a protein structure and predict the direction and magnitude of motion of its parts."
Kondrashov's research combines these two methods to develop better models of dynamics and to formulate hypotheses about the mechanism of function of proteins. They apply the modeling to proteins such as nitrophorin, a nitric oxide transport protein from the kissing bug, and gamma-SNAP, a binding protein involved in vesicle trafficking.
"The overall goal of Dr. Kondrashov's research group is to relate the three-dimensional structure and dynamics of proteins to their biological functions," said Maria Bohorquez, associate professor of chemistry and director of the Drake Undergraduate Science Collaboration Institute (DUSCI).
The seminar, which is part of Drake University's Science Colloquium Series, is free and open to the public.
For more information, send an e-mail to maria.bohorquez@drake.edu. Read more about Kondrashov online.