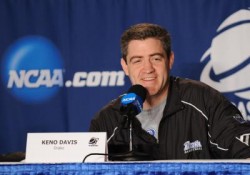 Keno Davis
First-year Drake Coach Keno Davis has been named the Men's Basketball National Coach of the Year by Basketball Times, a monthly publication that's been familiar to fans of the sport for nearly 30 years.
The Basketball Times honor is the third national award received by Davis, 36, who also has been recognized by The Sporting News and the U. S. Basketball Writers Association.
He also is a finalist for the Naismith National Coach of the Year, the Jim Phelan National Coach of the Year and the Hugh Durham Mid-Major Coach of the Year.
Davis led the Bulldogs to a school-record 28-5 mark this past season, including the team's first appearance in the NCAA Tournament since 1971.
Davis took a team picked to finish ninth in the Missouri Valley Conference preseason poll and guided Drake to both the regular-season crown and league tournament title.
The Bulldogs are nationally ranked under Davis' leadership
Under Davis, Drake was nationally ranked in both the Associated Press and USA Today/ESPN Coaches poll for a school-record eight straight weeks, including a No. 14 rating in the latest poll released on March 18.
Racing off to a 16-1 start, the Bulldogs cracked the top 25 polls for the first time on Jan. 21, being rated No. 22 in the Associated Press poll and No. 23 in the USA Today/ESPN Coaches poll. That marked the first top 25 appearances by a Drake team since the Bulldogs were ranked No. 16 in the Associated Press poll during the last three weeks of the 1974-75 campaign.
The Bulldogs' ascent to the top of the Missouri Valley Conference was all the more remarkable considering Davis inherited a 17-15 team in which graduation claimed four senior starters.
Thus Drake became the lowest preseason pick ever to win the league title. The Bulldogs enjoyed a school-record 21-game winning streak with a starting lineup featuring two former walk-ons in senior guard Adam Emmenecker (Saginaw, Mich.) and junior forward Jonathan Cox (Barrington, Ill.).
Davis was named the Rawlings Missouri Valley Conference Coach of the Year during the MVC Tournament in St. Louis.