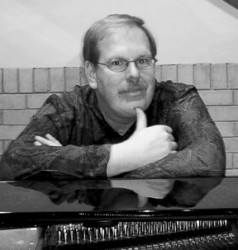 CONTACT: Lisa Lacher, 515-271-3119,
lisa.lacher@drake.edu
Baritone and pianist Bruce Perry and pianist Michelle
Havlik-Jergens will present a faculty recital at 8 p.m. Friday, March
28, on the Jordan Stage in Sheslow Auditorium in Old Main. The
performance is free and open to the public.
The program features works of Charles Ives, Gary Bachlund, and
Franz Schubert. Bachlund's song cycle "Songs for the Victims of AIDS"
is a tribute to all throughout the world who have suffered from the
spread of the HIV virus. Ives is one of America's most brilliant and
innovative composers. His songs are tour de forces for both singers and
pianists. Perry and Havlik-Jergens will perform 10 Ives' settings of
youthful memories. The program will conclude with Schubert's "Fantasy
in F Minor" for four-hand piano.
Perry is a teaching artist in voice at Drake University, where he
teaches studio voice and vocal literature classes. In addition to his
collegiate teaching duties, he maintains an active musical schedule as
a church musician, conductor, pianist and singer.
As a singer, Perry has performed in recital, opera and oratorio.
He has a passion for playing and singing 20th century English art song
and has participated in master classes with Samuel Barber, Ned Rorem
and John Duke.
Perry is a great advocate of using the arts to raise social
consciousness. His recent performances have used music to advocate for
world peace, promote awareness of the AIDS pandemic, raise money for
cancer research and highlight the plight of the homeless.
In addition, Perry conducts the Fort Dodge Choral Society in four
different concerts each year. He also serves as worship and music
coordinator for Grace Lutheran Church, Fort Dodge, and is chair of
music in worship for Iowa Choral Directors Association.
As a teacher, he works with many of the area's finest singers; more
than 40 of his former students are currently pursuing careers in the
musical world. As a solo and collaborative pianist, Bruce has
performed throughout the Midwest and in Brazil.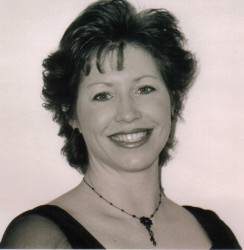 Michelle Havlik-Jergens
Havlik-Jergens is a staff accompanist at Drake. As a student of Drake
professor emerita Chiu-Ling Lin, she earned a Bachelor of Music Degree
in piano pedagogy from Drake.
Havlik-Jergens also serves as the pianist for Fort Dodge Choral
Society. She has been a soloist with the Drake, Wartburg and Fort Dodge
symphonies and twice won the Top Keyboard Artist Award in Iowa. She
also has entertained aboard Norwegian Cruise Lines and collaborated
with the Des Moines Ballet, Palm Beach Symphonette, Center Stage
Players and Poinciana Playhouse.
A resident of Webster City, Iowa, she appears regionally and nationally
with soprano Leanne Freeman-Miller and other Drake faculty and has
collaborated with numerous local, regional and national NATS and MTNA
competition winners. She is in great demand as a collaborative pianist
and clinician.