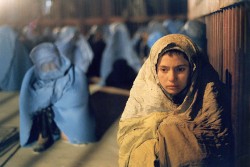 CONTACT: Lisa Lacher, 515-271-3119, lisa.lacher@drake.edu

Drake University's spring International Film Series will
conclude Sunday, April 6, with a screening of "Osama," a film
with English subtitles, at 2 p.m. in room 101 of Meredith Hall, 2805 University
Ave.
Debra DeLaet, Drake professor of politics and
international relations, will introduce the film and lead a discussion
afterwards.
This film tells the story of a 12-year-old girl, her
mother and a local village boy who narrowly survive the brutal end of a
peaceful demonstration organized by women who are oppressed by the cruel
Taliban regime. After witnessing such inhumane treatment, the mother is reminded
of her own hardships as she and her daughter struggle to maintain their
existence.
The series is sponsored by Drake's Center for Global
Citizenship and the Drake University Language Acquisition Program.