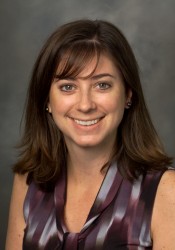 Ashley Sidon
Assistant Professor of Music Ashley Sidon will perform a cello recital at 8 p.m., Thursday Mar. 13, on the Jordan Stage in Sheslow Auditorium in Old Main, 2507 University Ave. The event is free and open to the public.
The program will consist of:
• "Sonata for Cello and Piano" by Edvard Grieg

• "Requiem for Three Cellos and Piano" by David Popper

• "Pampeana No. 2" by Alberto Ginastera
Nicolas Roth, assistant professor of piano, Cynthia Giunta, lecturer of music, and cellist George Work will accompany Sidon on Cello.
Sidon was previously Cello Teacher/Chamber Music Coach and Lecturer in Shanghai, China. She spent her time teaching and touring Southeast Asia to present recitals and master classes. As a proponent of contemporary music she has premiered compositions by composers Philip Koplow and Roger Vogel.
A faculty recital will continue with adjunct professor Bruce Perry featured on the baritone, Mar. 28 at 8 p.m. in Sheslow Auditorium.
Read more about Ashley Sidon online.