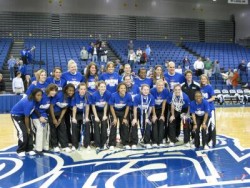 Drake women's basketball team
The
Drake community gathered on Monday, March 10, at the Knapp Center to honor the
Bulldog women's basketball team, which won its first Missouri Valley Conference
regular season title since the 2000-01 campaign. View a photo gallery of the
celebration online.

University President David
Maxwell, Athletic Director Sandy Hatfield Clubb and Head Coach Amy Stephens
addressed the crowd before the Bulldogs cut down the nets in recognition of
obtaining their sixth regular season title in school history.


"Women's basketball is
a wonderful tradition, and we're so proud of your accomplishments and who you
are," Maxwell said to the team.
In addition, Clubb thanked
the women's basketball players for their hard work and success, Maxwell for his
leadership, fans for their support and Stephens for her commitment to values,
ethics and morals. "She has truly built the path to a winning
legacy," Clubb added.
With enthusiasm, Stephens
said to the crowd, "Isn't it great to be a Drake Bulldog?" and
thanked the Drake community for their support. "Don't ever count us out.
We're fighters and we're never going away," she said.
As colorful confetti filled the
court, players took their turns cutting down a piece of the first net and even
invited administrators and coaches to help cut down the second net.
Drake now goes in search of
its sixth State Farm MVC Tournament title when the Bulldogs open championship
play versus Indiana State (14-14) on Friday, March 14, at 8:35 p.m. in the
Family Arena in St. Charles, Mo.
Drake will be the tournament's
third seed and face the sixth-seeded Sycamores. Indiana State and the Bulldogs
split their season series, with each side winning on their home courts.
Martin: State Farm/MVC Women's Basketball Player of the Week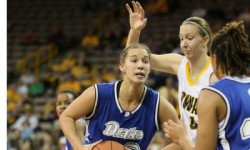 Jill Martin
For the fourth
time this season, senior forward Jill Martin has been selected as the State
Farm/MVC Women's Basketball Player of the Week.
She has been honored the
most among all conference players. It also is the fifth time overall that a
Bulldog has been honored, with junior Lauren Dybing, taking home the accolades
on Jan. 28.
Martin put together a statement week for Drake averaging 26.0 points and 8.5
rebounds to help the Bulldogs to a 2-0 mark and a share of their first regular
season conference crown since the 2000-01 campaign. She connected on 66.7
percent of her attempts from the field and 50 percent beyond the arc.
In Drake's 61-58 victory at Missouri State on March 6, Martin scored a
game-high 25 points on 9-of-14 shooting and pulled down a team-best nine
rebounds. Her free throw with 19 seconds remaining provided the difference in
helping the Bulldogs win the third straight regular season victory at Missouri
State.
Martin followed with a 27-point, eight-rebound effort in Drake's 53-51 triumph
at Wichita State on March 8. After scoring 22 points in the first half, she was
double- and triple-teamed in the second half but was able to be a difference
maker as she broke free from the defense and made lay-up with 1:38 remaining
gave the Bulldogs their first lead of the second half, 52-51.
She then connected on a free
throw with nine seconds remaining to provide the difference in the contest. She
hit 11 of her 16 shots and finished the affair with game highs in points (27)
and rebounds (8). She also added three assists and two steals.
On the year, Martin is averaging a team- and league-best 17.1 points per game,
while ranking second in the MVC in rebounding with a team-high 8.8 rebounds.
In league-only affairs, she
registered 16.7 points and 9.2 rebounds per game. She has posted 12 double-doubles,
including nine in the MVC, with six of those coming against Illinois State,
Evansville and Creighton.
She is the active leader for both men's and women's basketball in the MVC in
career double-doubles with 38.
Whorton Named Prairie
Farms MVC Scholar-Athlete Of The Year; Martin Named First-Team Selection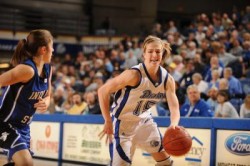 Lindsay Whorton
Drake senior guard Lindsay Whorton has been selected
as the Prairie Farms Missouri Valley Conference Women's Basketball Scholar-Athlete
of the Year. Joining her on the five-member first team was senior forward Jill
Martin.
Whorton was named to the first team for
the third consecutive year, while Martin was named to the top squad for the
first time after collecting second team laurels as a junior.
An ESPN The Magazine Academic
All-America first team women's basketball team award winner in 2008, Whorton
boasts a 4.00 grade-point average with a double major in English and education.
Whorton has started all 29 games for
Drake, averaging 14.0 points and 4.1 rebounds.
Having started all 29 games, Martin is
leading the Bulldogs in registering a team- and league-high 17.1 points per
game, while pulling down a team-best 8.8 rebounds. She maintains a 3.35 grade-point average in elementary education.
To be eligible for nominations to the
MVC Scholar-Athlete teams, nominees must own a cumulative GPA of 3.00 based on
a 4.0 scale and be a starter or important reserve and have played in at least
75 percent of its team's games.
Student-athletes must also have reached sophomore athletic and academic standing at their institution and have completed at least one full academic year at the school.