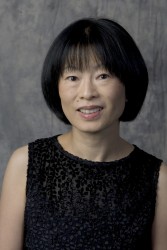 Rika Uchida
Rika Uchida, visiting assistant professor in piano and music
theory at Drake University, will give a solo piano recital at 8 p.m. Monday, March 24, on
the Jordan Stage in Sheslow Auditorium.
The program features some of the most popular piano music by
Claude Debussy, including "Claire de Lune" and "Girl with Flaxen
Hair," as well as Franz Liszt's "Mephisto Waltz."
"The audience will hear the changes in harmonic
materials in Debussy's music — from very consonant to somewhat dissonant
harmony," Uchida said.
The program also includes lesser-known music by Debussy,
such as "Images Book II," along with "Rain Tree Sketch No.
2" by Japanese composer Toru Takemitsu.
Uchida joined Drake in 2005. She holds a D.M.A. in piano
performance and an M.A. in music theory from the University of Oregon. She
received her bachelor's degree in international studies from Tsuda College in
Tokyo, Japan.