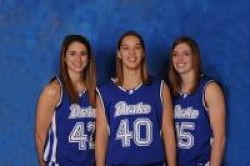 Brandy Dahir, Jill Martin and Lindsay Whorton.
The public is invited to join in the festivities at 4 p.m. on Monday, March 10, when the Drake women's basketball team cuts down the nets in celebration of earning a share of the 2007-08 Missouri Valley Conference regular season title.
The main doors to the Drake Knapp Center, along Forest Avenue, will be open at 3:30 pm.
The Bulldogs earned a 53-51 victory at Wichita State on Saturday, March 8, to earn a share of the school's sixth league title with a 20-9 overall record, including 13-5 in conference play.
Drake will be the third seed at next weekend's State Farm MVC Women's Basketball Championship and will take on sixth-seeded Indiana State on Friday, March 14, at 8:35 p.m.Based on league tiebreaking procedures Drake was awarded the No. 3 seed, while Illinois State and Evansville were tabbed as the first and second seeds, respectively.
The remaining seeds are Creighton (No. 4), Missouri State (No. 5), Indiana State (No. 6), Northern Iowa (No. 7), Bradley (No. 8), Southern Illinois (No. 9) and Wichita State (No. 10).
2008 State Farm MVC Women's Basketball Championship
Thursday (March 13)

Game 1: No. 8 Bradley vs. No. 9 Southern Illinois, 6:05 p.m.

Game 2: No. 7 Northern Iowa vs. No. 10 Wichita State, 8:35 p.m.
Friday (March 14)

Game 3: No. 1 Illinois State vs. Game 1 Winner, 12:05 p.m

Game 4: No. 4 Creighton vs. No. 5 Missouri State, 2:35 p.m.

Game 5: No. 2 Evansville vs. Game 2 Winner, 6:05 p.m.

Game 6: No. 3 Drake vs. No. 6 Indiana State, 8:35 p.m.
Saturday (March 15)

Game 7: Game 3 Winner vs. Game 4 Winner, 1:05 p.m. (FSN)

Game 8: Game 5 Winner vs. Game 6 Winner, 3:35 p.m. (FSN)
Sunday (March 16)

Game 9: Game 7 Winner vs. Game 8 Winner, 2:05 p.m. (FSN)