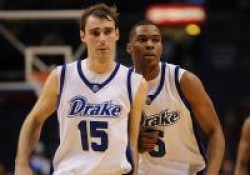 Adam Emmenecker and Leonard Houston combined to make six free throws in the final 29 seconds.
Box Score

Photo Album

Game Quotes
ST. LOUIS (AP) — Adam Emmenecker, the benchwarmer turned league MVP for No. 20 Drake, had trouble believing the fans were chanting those three letters for him.
"I'm not used to it yet," Emmenecker said after his little-man double-double helped the Bulldogs beat Creighton 75-67 on Saturday to reach the Missouri Valley Conference tournament final for the first time. "Half of the time, I figure they're chanting it about somebody else. It's kind of a new situation for me."
The same goes for Drake (27-4), which had been saddled by such an undistinguished past that it won consecutive games in the 32-year-old tournament for the first time.
Heading to the championship game their fans usually watch on TV after the return trip to Des Moines, Iowa, the Bulldogs await their first NCAA tournament bid since 1971 and first postseason berth of any kind since the 1986 NIT.
Drake will face Illinois State in the Missouri Valley Conference tournament final Sunday, which will be televised on CBS beginning at 1 p.m. CDT.
"It means a lot to us as individuals, going through the struggles of the last three or four years," Emmenecker said. "It's not only for us but it's for our fans who have been there since 1969, the fans that have been diehard Drake fans, that have gone through some of the lowest lows of college basketball."
The 6-foot-1 Emmenecker, a former walk-on and the Valley player of the year as a senior, had 20 points and a career-high 11 assists. It was his third career assist-points double-double on the heels of his first career points-rebound double-double, in the quarterfinals.
Josh Young had 16 points and Jonathan Cox added 10 points and 11 rebounds for Drake, which broke a school record for victories, set by the 1968-69 team that advanced to the Final Four.
"When Creighton would make a great run, which we told our team they would do, I felt like our team wouldn't get rattled," first-year coach Keno Davis said. "They would make the right play and come up with the right stop."
The Bulldogs had long been a Valley doormat, forced to play in the lead-in game of the four-day tournament nine of the previous 11 seasons, until their surprise emergence.
P'Allen Stinnett had 18 points for Creighton (21-10), the fourth seed. Cavel Witter missed his first six shots, then scored all of his 11 points in the final four minutes, helping cut the deficit to four.
Drake shot 6-for-6 at the free throw line in the final 29 seconds, with Emmenecker hitting four and Leonard Houston two, to hold off the Bluejays.
Kenny Lawson matched his career best with 11 rebounds for Creighton, which won six of the previous nine conference tournaments.
"We're very disappointed," Creighton coach Dana Altman said. "There was a 10-minute stretch in the first half where we really got to standing around and took some bad shots. They took advantage of that, like they've done all year."
Emmenecker ran the show in a game that was alternately run-and-gun or slowdown for the Bulldogs, feeding teammates for easy baskets and using his body to fend off defenders on drives to the basket. Emmenecker, who topped his previous assist best of 10, added five rebounds and was 12-for-13 from the line.
"He showed why he's the MVP of the league," said forward Klayton Korver, who had 13 points and six rebounds. "He does a little bit of everything, and he does it well. He's a jack of all trades."
Drake seized control with a 13-1 first-half run, holding Creighton without a basket for 8 1/2 minutes to take a 26-19 lead. The Bulldogs led 30-21 at halftime.
"I thought we lost our focus," Lawson said. "Every game you face adversity. We didn't handle it as well as we should have."
Young and Emmenecker each had five points in the run, and one of Emmenecker's points came after a technical foul on Stinnett for running down the court with mouthpiece out and spittle flying, complaining about a foul call.
Creighton missed 11 of its last 12 shots and trailed by double digits much of the second half before its late rally.
Editor's Note: Story By R.B. FALLSTROM, AP Sports Writer