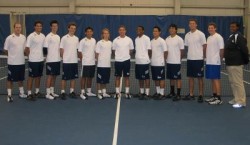 Drake men's tennis team
DES MOINES, IOWA –Sitting at 11-0 on the campaign and holding the nation's longest regular season winning streak at 31, the Drake men's tennis team added another gem to its resume on Tuesday, March 4. The team achieved its highest ranking (33) in school history when the latest Intercollegiate Tennis Association (ITA) rankings were unveiled. The ranking surpasses the previous high established on March 13 of last season, when Drake checked in at No. 45.
"Thirty-third in the nation is quite an accomplishment for the program," Drake head coach Chase Hodges commented. "It is always nice to break school records. The guys are very deserving of this ranking and an 11-0 record certain ly helps the case. We have had an outstanding start to the season, but we still must remain focused on our goals."
The Bulldogs have rolled off 31 consecutive victories and stand at 11-0 entering their home tilt versus Gustavus Adolphus, the 2008 ITA Division III National Indoor Team Champion, at 2 p.m. Sunday, March 9. Drake has won 42 straight home matches at the Drake Tennis Center, the second longest streak in the nation.