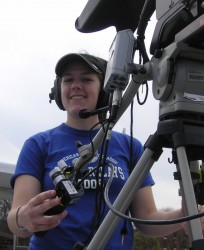 Lynn Grochowski works on the student-produced broadcast of the Drake Relays.
CONTACT: Lisa Lacher, 515-202-1773, lisa.lacher@drake.edu
DrakeUniversity senior Lynn Grochowski is scheduled to appear on NBC's "Today" show Monday, March 3, as part of a story on financial aid. The story is expected to air at 8:35 a.m. CST.
Grochowski was awarded a four-year National Alumni Scholarship to Drake, which covers full tuition, room and board. She also applied for more than 40 other scholarships.
"It was quite a process," she recalled. "I had to research all the requirements and the deadlines, fill out applications, write numerous essays and ask my high school teachers and counselor to write letter upon letter of recommendation."
Her efforts paid off, though. In addition to Drake's National Alumni Scholarship, she was awarded seven scholarships that provided a total of $21,500 over four years. That money helped her pay for books, a computer, living expenses and a semester-long study abroad program in Western Australia.
Graduating with no debt
When Grochowski graduates in May with a bachelor's degree in journalism and mass communication, she won't have any student loans to repay. "It will be nice not to have to worry about debt," she said.
Grochowski, who grew up in suburban Milwaukee, hopes her brief appearance on national television will inspire high school students to apply for lots of scholarships.
"Granted, it's a lot of work and it's a gamble," she said. "But good things can happen if you put time and the energy into the application process."
Grochowski, 22, is majoring in TV and radio production and has a minor in theatre arts. She recently appeared in Drake's production of "The Vagina Monologues" and had her own radio show, "The Underdog Hour," on KDRA-LP last spring.
Organizing soldiers' entertainment drive
Through her radio program, she initiated a community-wide drive to gather donated entertainment items for care packages to be sent to soldiers in Iraq as part of the Books for Soldiers program.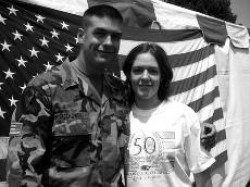 Brian and Lynn Grochowski at a Fourth of July celebration in their hometown of Franklin, Wis.
Her family got involved with the program after her brother, Brian, was called up for active duty in Iraq during Grochowski's freshman year at Drake.
Grochowski's drive netted more than 100 items that included 10 Xbox games, 60 CDs, 35 DVDs and numerous cash contributions.
"I was so pleased with the great response," she said. "I'm hoping to organize another drive after spring break."
Following graduation, Grochowski will be busy planning her August wedding. She met her fiance, Andy DeRolf, when the Wabash College student was studying abroad in Australia at the same time that she was there.
They plan to move to Bloomington, Ind., where she hopes to work in the television industry while he attends graduate school at Indiana University.