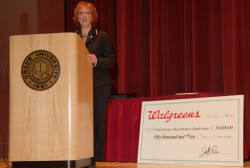 During the college's annual Pharmacy and Health Sciences Day, Walgreens presented Dean Raylene Rospond a check for $50,000 to support the renovation of the Donald F. Davidson Pharmacy Practice lab.
CONTACT: Tory Olson, 515-271-1834, tory.olson@drake.edu
Walgreen Co. has donated $50,000 to Drake University's College of Pharmacy and Health
Sciences to assist in the renovation the Donald F. Davidson Pharmacy Practice
Laboratory in Fitch Hall.
The gift will help the college provide students with the
most up-to-date resources by creating a new over-the-counter product space
within the Davidson Practice Lab that will bear the Walgreens name, in
recognition of the company's generous support.
"The growing number of
over-the-counter products requires that pharmacists have advanced skills in
assessing a patient's needs and directing them to the appropriate
medications," said Raylene Rospond, dean of the college. "The
Walgreens Nonprescription Product Center will provide an exceptional
environment in which students can develop these skills."
This gift is an
important piece in the overall plans to renovate the practice laboratory into a
contemporary pharmacy setting. The
other portions of the major renovation are being accomplished through a gift from Donald F. Davidson
for whom the laboratory is named. The lab is scheduled to be completed by
spring 2009.
Renovation plans include:
expansion
of laboratory space
replacement
of lab benches with mobile individual work units for drug dispensing,
patient counseling and assessment
creation
of space for drug distribution system examples found in community,
long-term care and hospital pharmacy settings
creation
of the Walgreen Nonprescription Product Center and
installation
of new audiovisual technology, making the lab a true electronic classroom.
The renovated lab will help the college continue to meet the
evolving standards set by the Accreditation Council for Pharmacy Education for
the education of pharmacists. The lab will provide students with the
opportunity to develop critical thinking and problem-solving skills in the
laboratory experience.
Drake has enjoyed a long-standing relationship with Walgreens.
In the 2006-07 academic year, more than 100 pharmacy students trained with
Walgreens in early practice experiences and advanced experimental rotations.
Drake pharmacy graduates continue to hold a range of positions
with Walgreens from entry level to management to top leadership. Former CEO and major Drake benefactor
L. Dan Jorndt is a 1963 graduate.
ABOUT WALGREENS
Walgreens is the nation's largest drugstore chain with
fiscal 2007 sales of $53.8 billion. The company operates 6,179 stores in 49
states and Puerto Rico. Walgreens is expanding its patient-first health care
services beyond traditional pharmacy through Walgreens Health Services, its
managed care division, and Take Care Health Systems, a wholly owned subsidiary
that manages142 convenient care clinics at drugstores. Walgreens Health
Services assists pharmacy patients and prescription drug and medical plans
through Walgreens Health Initiatives Inc. (a pharmacy benefit manager),
Walgreens Mail Service Inc., Walgreens Home Care Inc. and Walgreens Specialty
Pharmacy LLC. More information about Walgreens is available online.